With social media-driven sales poised to top $1.3 billion globally this year, it's hard to exaggerate the importance of an effective social marketing strategy to anyone trying to sell products online. Aside from mastering platform-dependent features—like Instagram's hashtags, Stories, and Reels—one straightforward way to you can improve conversions is linking a custom landing page in your social media profiles.
In 2023, creating a custom landing page is simple and fast, thanks to what we now call link in bio (or link in profile) tools. These apps provide an elegant way to drive traffic to your most important content, ideally to convert followers to customers.
Popular among digital creators, ecommerce companies, and influencers, these tools provide a mechanism for bundling different links (for things like videos, playlists, podcasts, storefronts, or other social media profiles) on a custom landing page, all accessible from a single, typically short link.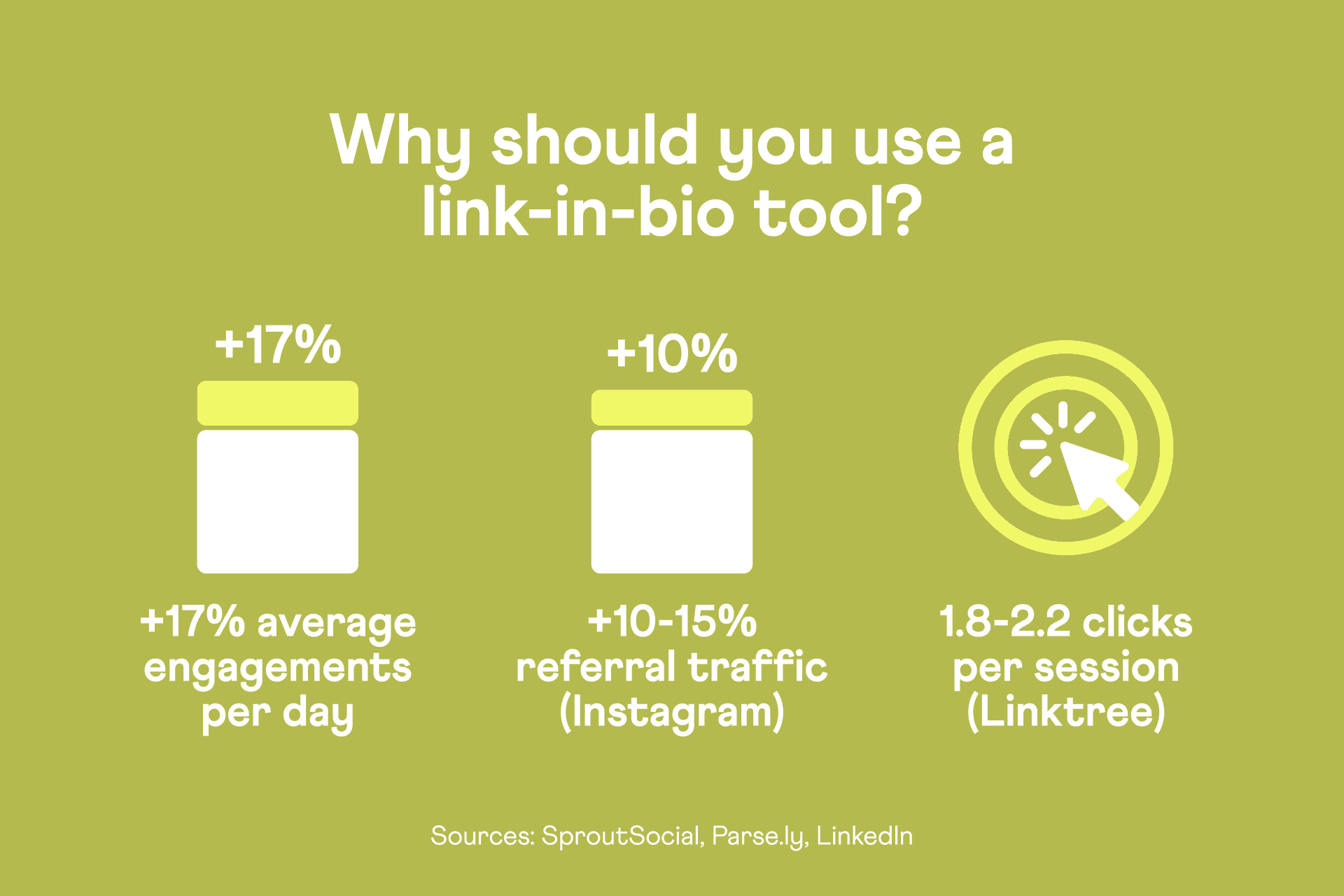 A 2022 study by the social media intelligence brand Sprout Social revealed that Instagram accounts using a link in their bio saw an average of 17% higher profile engagement than other accounts. Additionally, 2020 data from Linktree, the link in bio tool's market incumbent, showed that the average clicks per session on a Linktree page ranged between 1.8 and 2.2. This data suggests that visitors will likely engage with more than one piece of your content once they reach your link page.
The previous data points indicate the tangible benefits of using a link in bio tool in your social media marketing and content distribution strategy. As you join the 31+ million strong community of link in bio tool users, you'll notice that companies have now saturated the link in bio space with dozens of apps. This abundance of options can complicate choosing the best app for your situation, so we've compiled a list of some of the best link in bio providers to aid you in your search.
Table of Contents
How Do I Use a Link in Bio Tool?
With the sheer variety of link in bio and link in profile platforms, the specifics of getting set up vary from product to product. However, the general process for building a link in bio landing page typically includes the following steps:
Gather links for the content you plan to use

Create an account with the service you'd like to use

Enter each of your links in the editor interface

Edit the layout, theme, and branding of your link page

Copy the link that points to your new link page

Edit your social media account bios, enter the link to your new link page, then save your changes
Given the outsized potential benefits, setting up a link in bio page is worth the small time commitment required. By offering your visitors an easy way to navigate your different content streams, you can improve their experience with your products and encourage them to spend more time engaging with your content.
How Do I Add a Link to My Instagram Bio?
An essential step after you create your link in bio page is adding it to your social media accounts. Instagram is a great place to start, and you can use the following procedure to add an Instagram bio link in the app (mobile only):
At the bottom right of your screen, tap the profile icon (or your profile picture) to go to your Instagram profile

Tap the Edit profile button

Tap Links, then tap Add external link

In the URL field, type or paste your link page's web address

Tap Done (iPhone) or the check mark (Android)
How Do I Add a Link to My Twitter Bio?
Like Instagram, Twitter lets you add a single clickable link to your profile's bio. You can update your Twitter bio link on mobile or desktop, so follow the procedure for where you're using the app:
Adding Your Bio Link in Twitter's iOS App
At the top left of your screen, tap your profile picture to open the sidebar, then tap Profile

Tap the Edit Profile button

In the Website field, type or paste your link page's web address

Tap Save
Adding Your Bio Link on Twitter's Desktop Website
How Do I Add a Link to My Tiktok Bio?
TikTok differs from Instagram and Twitter by requiring you to have a minimum of 1000 followers before you can add a live link to your bio.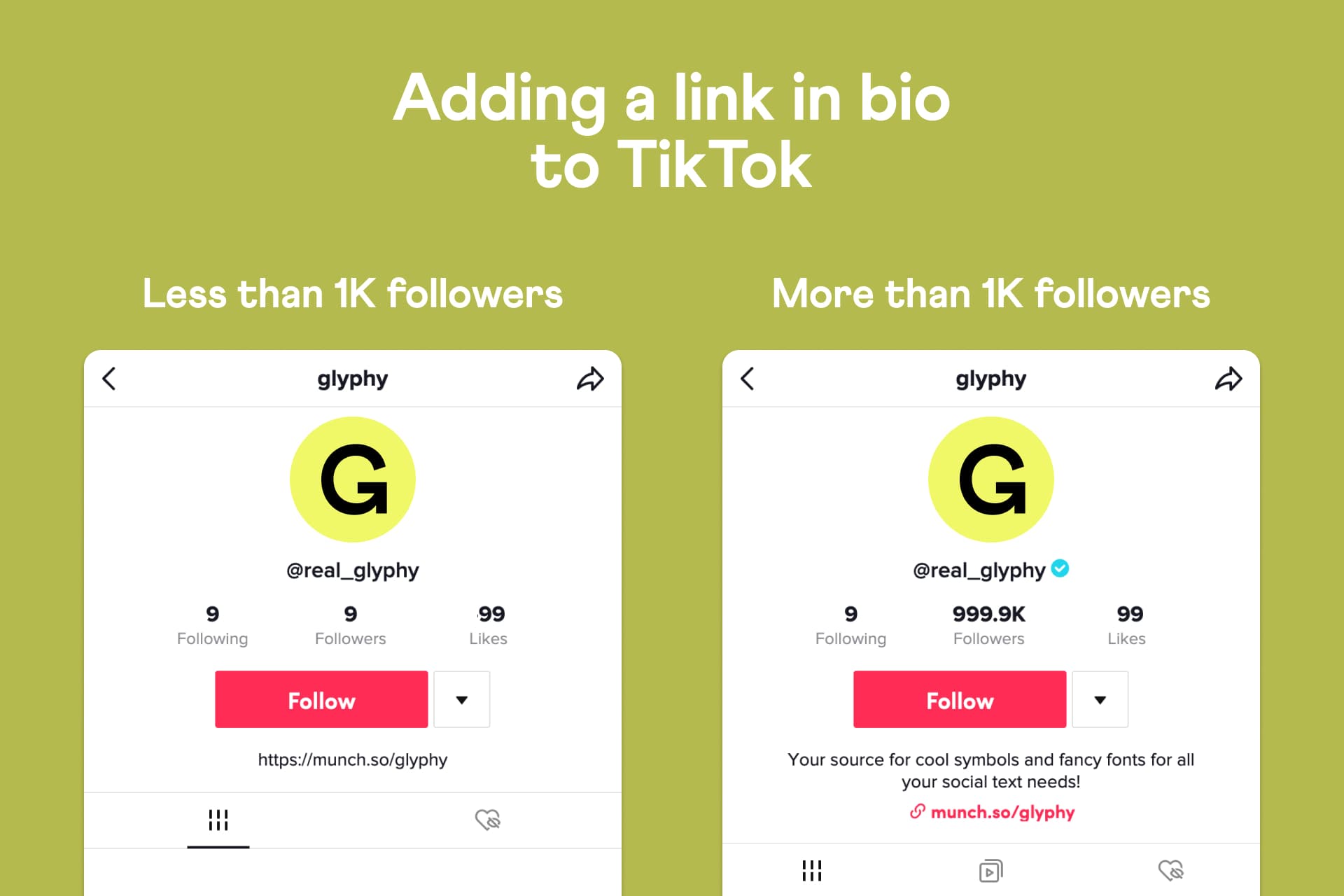 If you've already reached the 1000-follower milestone—congratulations! 🥳 You can use the following procedure to add a link to your bio in the TikTok mobile app:
At the bottom right of your screen, tap the Profile tab

On your profile, tap Edit Profile

In the Website field, tap Add your website

On the next page, type or paste your link page's web address

Tap Save
You can still add a link in your profile's bio text if you don't meet the follower requirement, but visitors will have to manually copy and paste the link into their browser, which won't net you any user experience points. If your account doesn't meet the follower requirement, you may want to link your Instagram and TikTok accounts instead of just using a plain-text link in your bio. 
After you link your Instagram account, mobile app users who visit your profile see a dedicated Instagram button next to the Follow button. Since clicking takes less effort than pasting into a browser, you may see better results by referring visitors to your Instagram page, where they can click through to your link page.
Use the following procedure to link your Instagram to your TikTok account:
At the bottom right of your screen, tap the Profile tab

On your profile, tap Edit Profile

On the Edit Profile page, go to the Social section

In the Instagram field, tap Add Instagram

Sign in to your Instagram account

On the screen asking permission to share information with TikTok, tap Allow
Linktree: One Link to Rule Them All?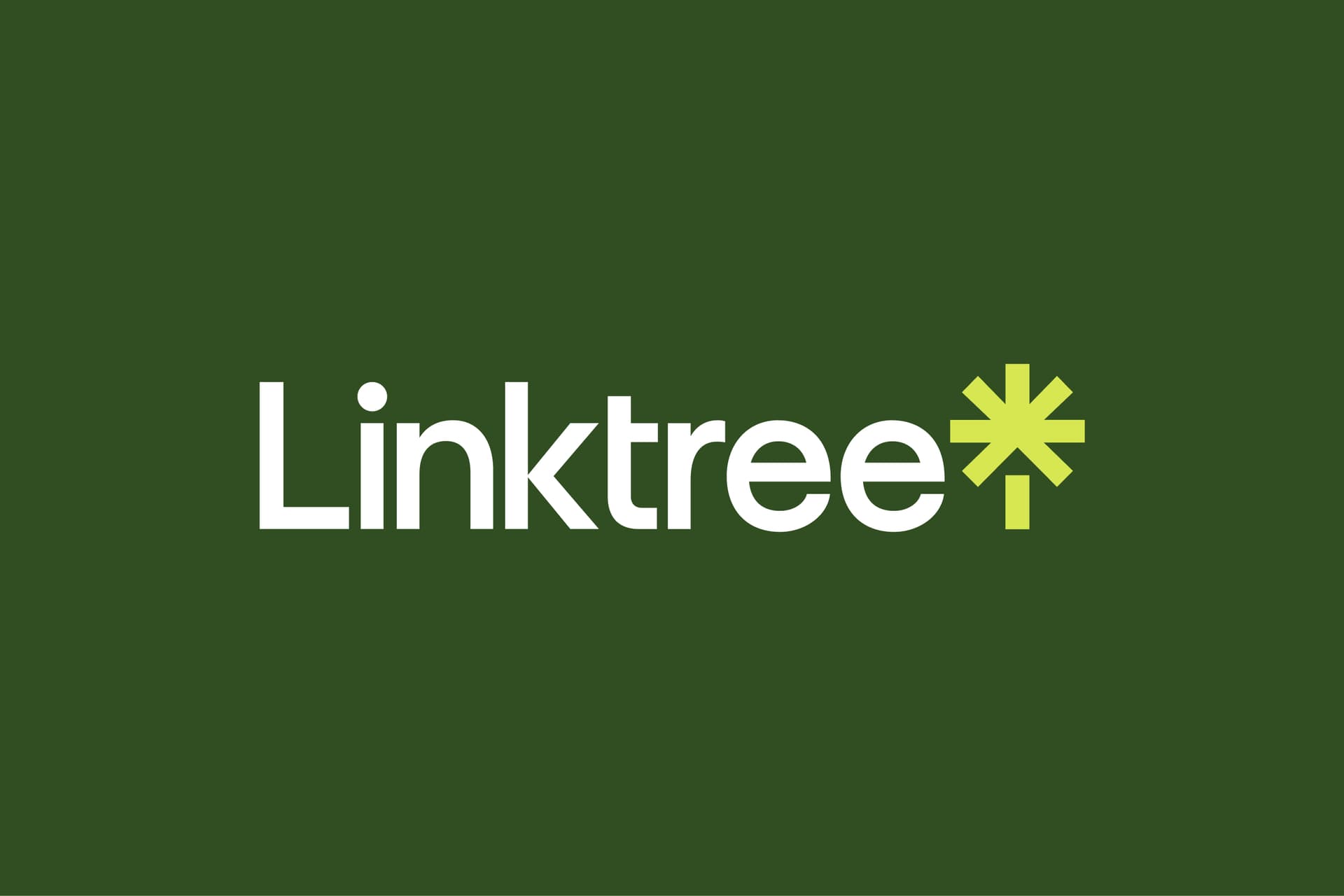 [Linktree is] loved by influencers, brands, and side-hustlers for its powerful simplicity, shareability, and clutter-free approach to conversion. —Henry Clarke, fmr Social Media Manager @ Linktree
Founded in 2016, Linktree was one of the first companies to solve the link in bio problem and remains the market leader in the space by an enviable margin. Linktree's simple design, abundant integrations, and powerful analytics make it the easy choice for many social network users trying to convert followers into customers or clients. 
Linktree, now almost a decade old, shows no signs of slowing down. In particular, the company's established market presence and growth are reassuring points for new users, especially if you don't want to commit to a platform just to have it disappear in a few years.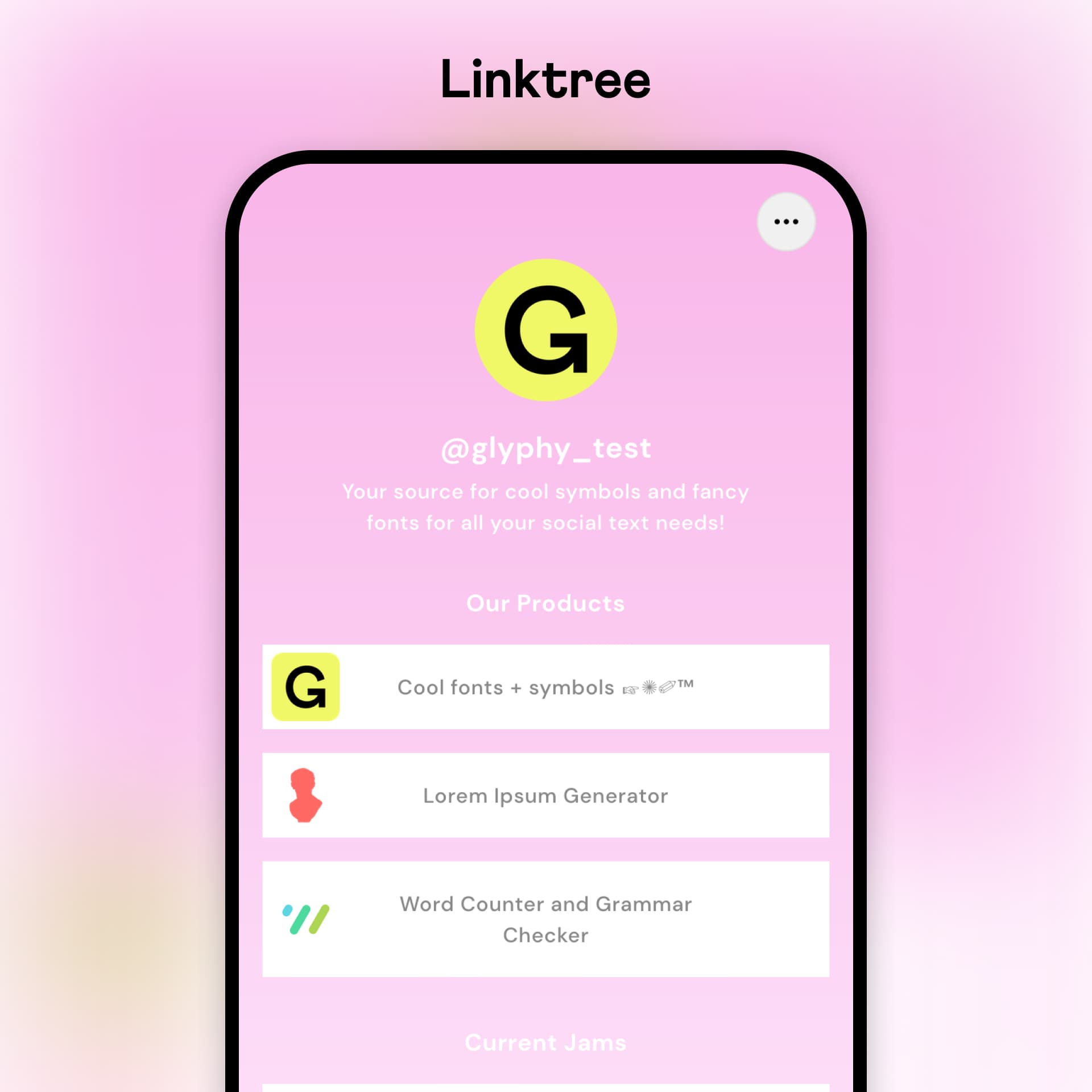 As the market leader in the link in bio and link in profile tool space, Linktree sets the format for many of the features other providers adopt. Currently, Liinktree lets you knock out all of the following tasks with one simple page:
Share your content with embeds for apps for Spotify, Soundcloud, OpenSea, and many other popular service providers

Make and collect money by adding a tip jar, and Shopify storefront, or a BandsInTown integration to drive ticket sales

Grow your following by connecting with fans through the Cameo integration, building an SMS subscriber list, or running a Gleam campaign from your page
Features
Dedicated mobile app, in addition to the web-based interface

Embeddable apps for a wide range of popular content and streaming platforms

Analytics for the set date ranges (Free, Starter, and Pro) or complete account lifetime (Premium)

Customizable page themes, with paid plan features including custom photo and video backgrounds, NFT backgrounds, and the option to hide the Linktree logo (only available with certain subscription tiers)

Monetization options range from tips to Shopify storefronts, with paid plans also directly supporting several affiliate programs
Pricing
Inspo
Why Choose a Linktree Alternative?
With such a strong argument for using Linktree, why might you choose an alternative? For one, Linktree paywalls most of its advanced analytics, marketing, and monetization tools (and even some more exciting theme customizations). 
Additionally, Linktree collects a percentage of all payments processed through the platform as a transaction fee (Linktree doesn't currently list the exact rates on their site). Finally, Linktree doesn't support custom domains, so if you opt for a Linktree bio link, it'll always be some form of linktr.ee/yourhandle.
For creators just starting to build a following, Linktree alternatives may offer a way to access desirable features at a lower upfront cost. Additionally, if using a custom domain for your link page is non-negotiable, you must consider Linktree alternatives supporting that feature. 
We compiled the following list of the best Linktree alternatives to highlight established competitors in the link in bio space and introduce some newcomers who bring a fresh approach to solve the enduring problem of maximizing the utility of that single link in your profile.
Best Free Link in Bio Tools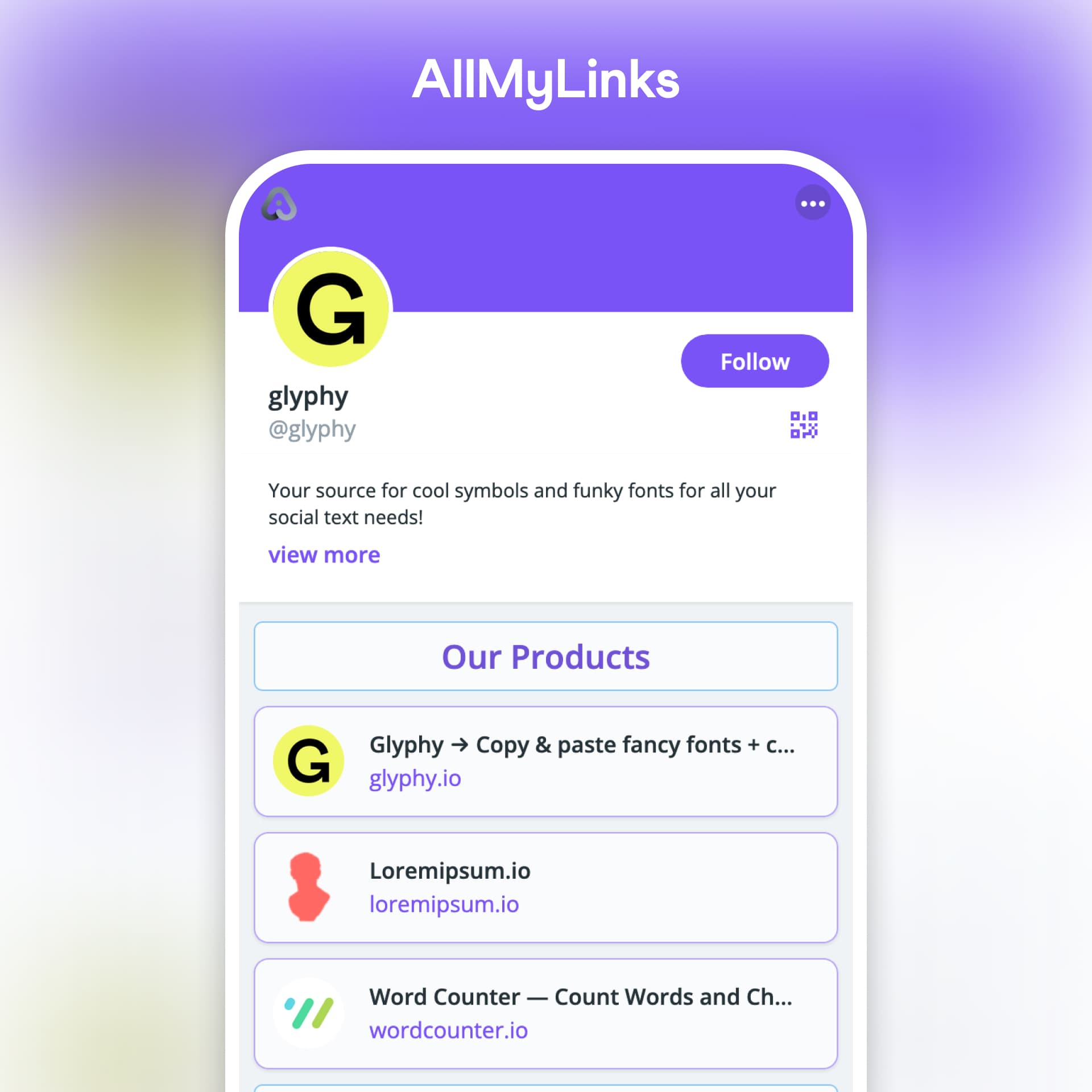 AllMyLinks is a free Linktree alternative that offers a streamlined user experience at an unbeatable price. The app takes a one-size-fits-all approach to page design, offering a limited set of layouts, theme customizations, and page content types. 
As a free offering that includes monetization options, like visitor donations and direct paid content links, AllMyLinks is an excellent option if you're looking for a way to refer and monetize your following with minimal startup costs. 
The platform doesn't collect any fees on payouts through PayPal, the only currently supported payout option. Consequently, aside from any fees charged directly by PayPal, you keep all of the payments you accrue from your page. 
Features
Custom domains 

Collect payments from visitors as direct donations or purchases on your profile or through links to popular payment platforms 

Statistics and analytics tools, including page views and custom tracking pixels 

Connect your Metamask wallet to set an NFT as your profile picture 

Built-in QR code for your page 
Pricing
Inspo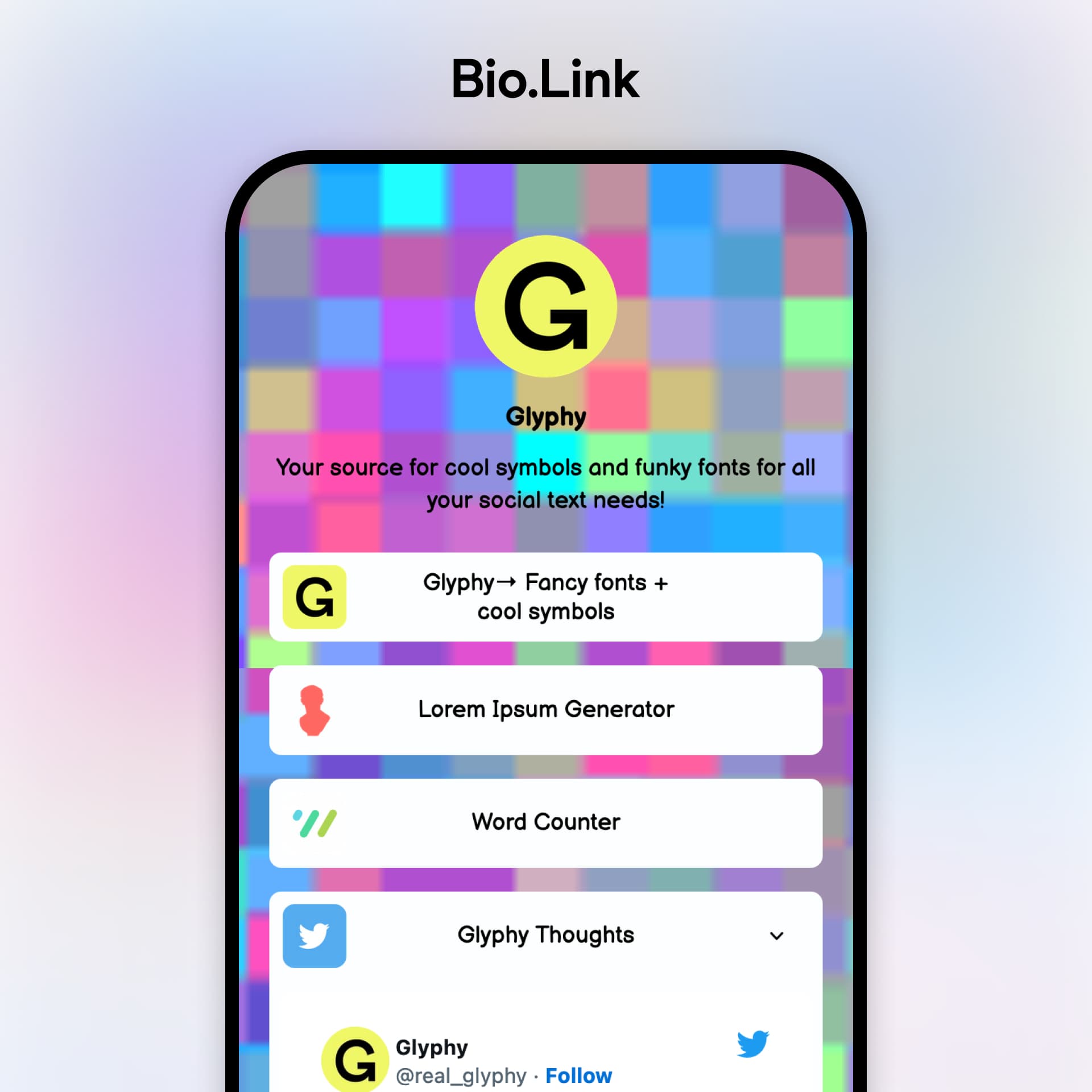 Bio Link, an app designed by the team behind Buy Me a Coffee, stands out among the saturated link in bio tool space as a free service that includes some great features that typically come at a premium. For example, all users can access unbranded landing pages and custom domain URLs, two options that most platforms tend to include in their paid subscriptions.
The platform does lack some of the newer features seen elsewhere - like embedded monetization options, more granular theme control, and custom branding - but as a free service, it's hard to beat Bio Link's offering.
Features
Use a custom domain for your page at no added cost

Allows you to hide the Bio Link branding

Custom themes, including support for GIF backgrounds

Directly showcase tweets, audio, music, and podcasts through embed integrations

Collect information from visitors through the forms integration
Pricing
Inspo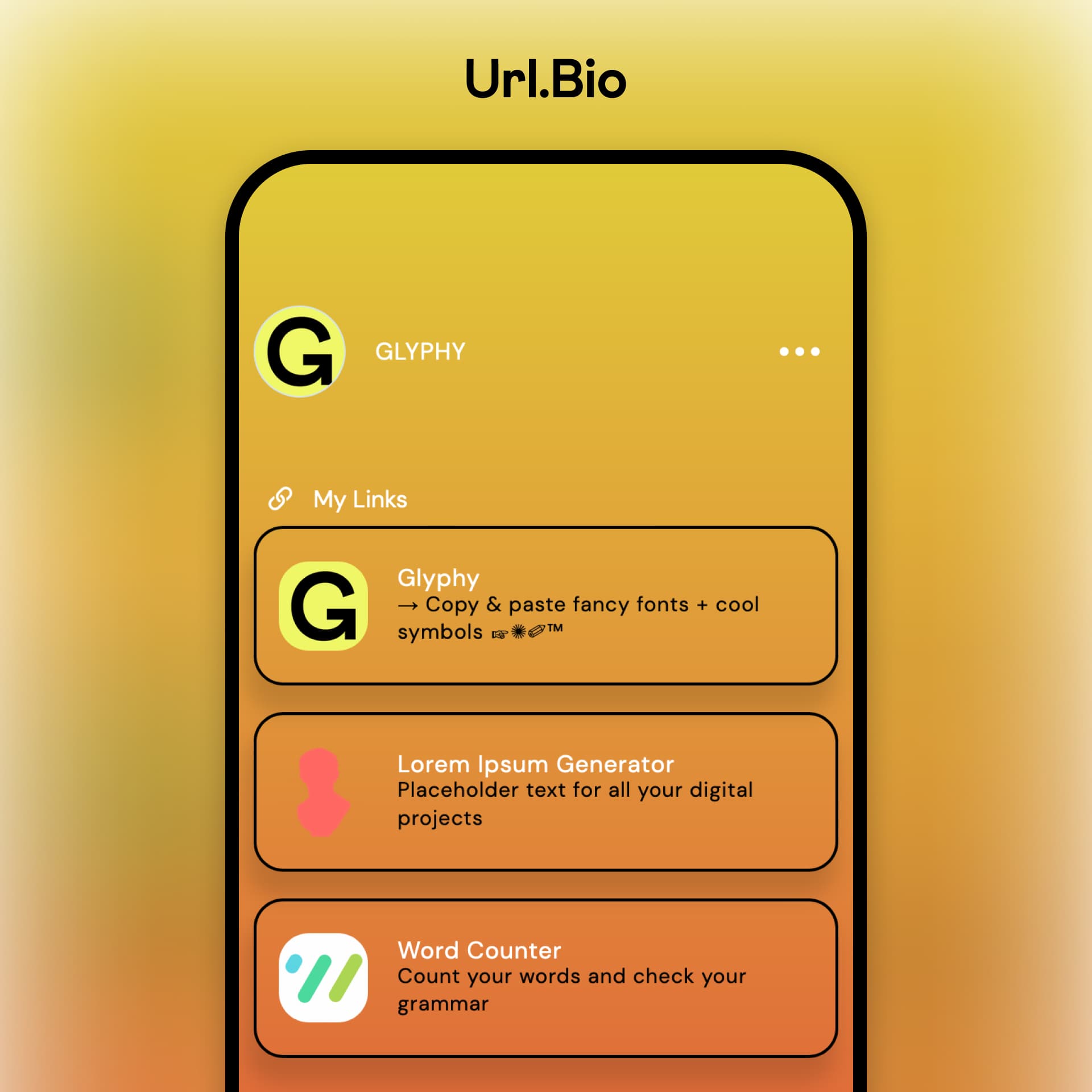 Url.bio, another free Linktree alternative, takes a minimalist approach to its link in bio page design.
The app foregoes many of the bells and whistles of other platforms, keeping the page's focus squarely on links. Currently, there's no way to remove the url.bio branding or use a custom domain for your page. However, this isn't unexpected since the app offers only a free tier.
Url.bio doesn't provide some of the more complex content options you'll find on other platforms. However, you can customize your url.bio page's theme freely, set a specific redirect URL, and schedule when your links will be active - features that often get bundled into paid tiers.
Url.bio is an excellent Linktree alternative for people looking to collect a few links on one page without spending money (or much time) on setup or maintenance.
Features
Use the whole app for free, with an unlimited number of links on your page

View analytics for weekly and lifetime views, clicks, and clickthrough rates for your page and weekly and lifetime clicks for individual links

Set a schedule for your links to be active

Use a redirect link to reroute page visitors to a specific URL automatically

Integrate your Instagram and TikTok feeds to show your latest posts right on your page
Pricing
Inspo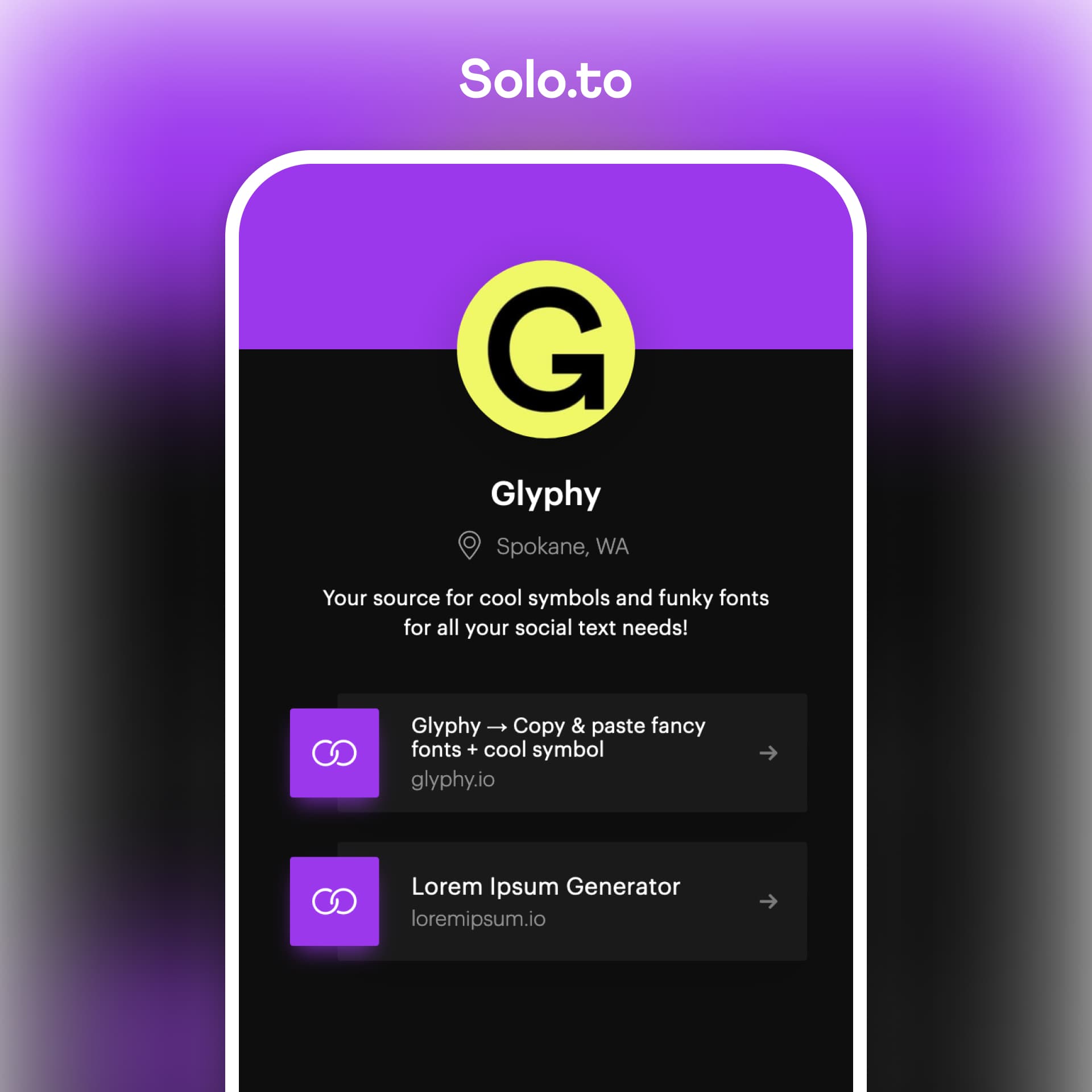 Solo.to offers a stylish way to showcase your link portfolio with a wealth of dynamic content embeds.
The free plan limits page content, restricting your usable options to only links. However, upgrading to the Personal tier grants access to additional page customization options and analytics, which may make it a worthwhile investment at such a low price ($1 a month when we published this article).
To completely control your page's branding, you must sign up for at least the Entrepreneur plan (solo.to's business plan). This plan's collaboration features, support for creating multiple pages, and wealth of content embeds make it a good option for creators with a more developed audience or small businesses looking for a turnkey link page solution.
Features
solo.to's free plan supports up to 25 links (increases to 50 or 100 for paid plans), personal contact buttons, one week of analytics (page views and link clicks), and two-factor authentication 

The Personal plan unlocks one month of analytics, dedicated buttons for social links, and custom background images 

On the Entrepreneur plan, you can create two separate solo.to pages, access analytics for the preceding six months, and embed a range of content, including audio and video, directly on the page 

The Professional plan lets you create up to 5 solo.to pages and provides access to Mailchimp, Make, and Zapier integrations; customization of the page's favicon, domain, and branding; collaborator access; and Meta Pixel tracking 
Pricing
Free plans

Paid plans (pricing)

Personal

Entrepreneur

Professional
Inspo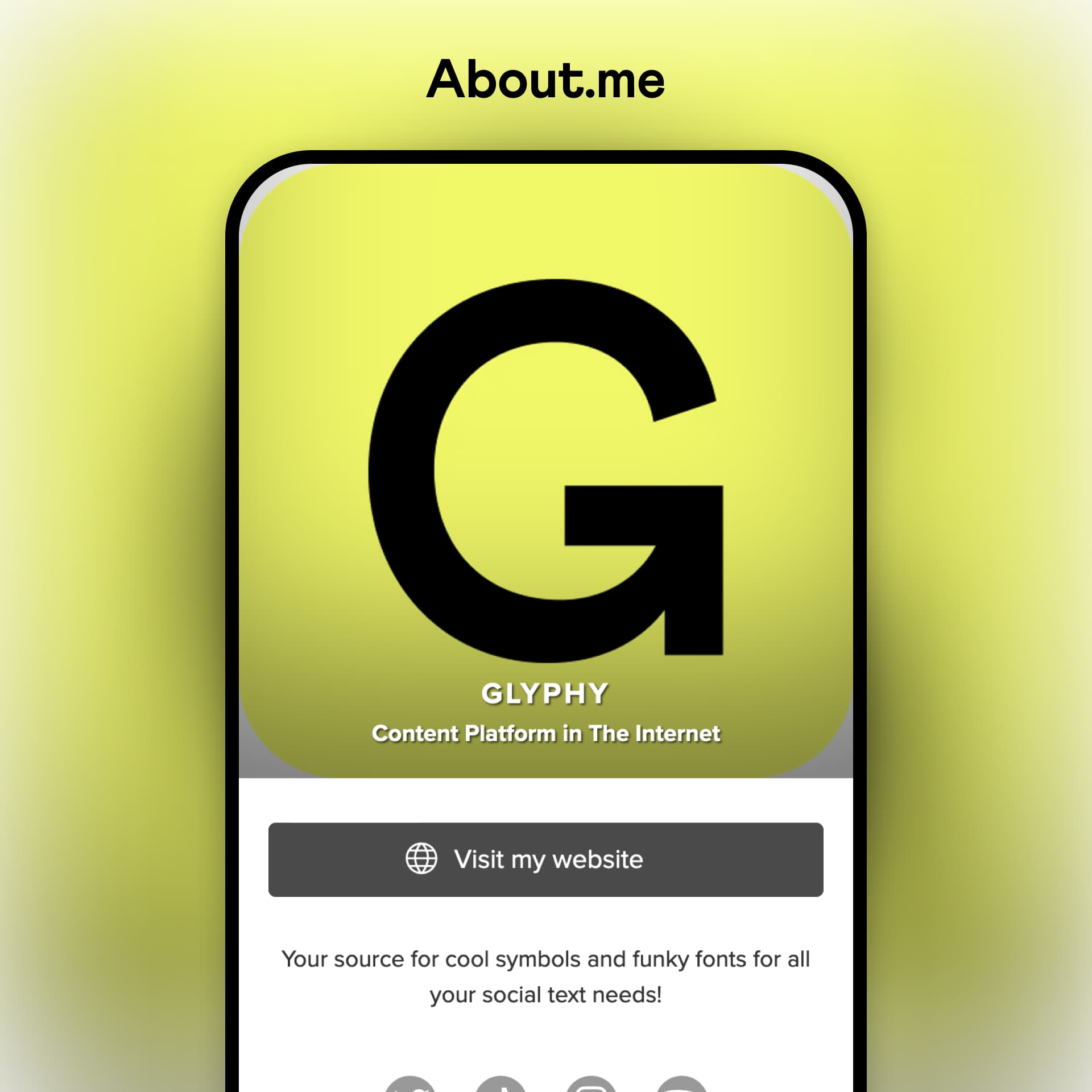 About.me is a landing page builder that provides a simple way to design a web page that can serve as a micro-resume or portfolio.
The free plan gives you enough access to create a page with a single call-to-action button, bio text, and social links. Upgrading to the Pro plan unlocks additional page components—like contact forms, image and video portfolios, and video embeds, allows you to remove the about.me branding, and adds support for Google calendar integrations.
The page is more text-forward than other tools, prominently featuring a rich text editing field to enter a bio and additional essential information. With its restrained design and professional look and feel, about.me may appeal to business users more than digital natives and influencers. If your goal is building a minimalistic and professional-looking landing page quickly, about.me is an excellent choice.
Features
Spotlight Button for your most important call to action (customizable for Pro plans)

Email signature with a link to your about.me page

Bring your own domain (Pro plan only)

Portfolio image gallery and video embeds (Pro plan only)

Google integration for meetings and lead tracking (Pro plan only)
Pricing
Inspo
Best Unique Link in Bio Tools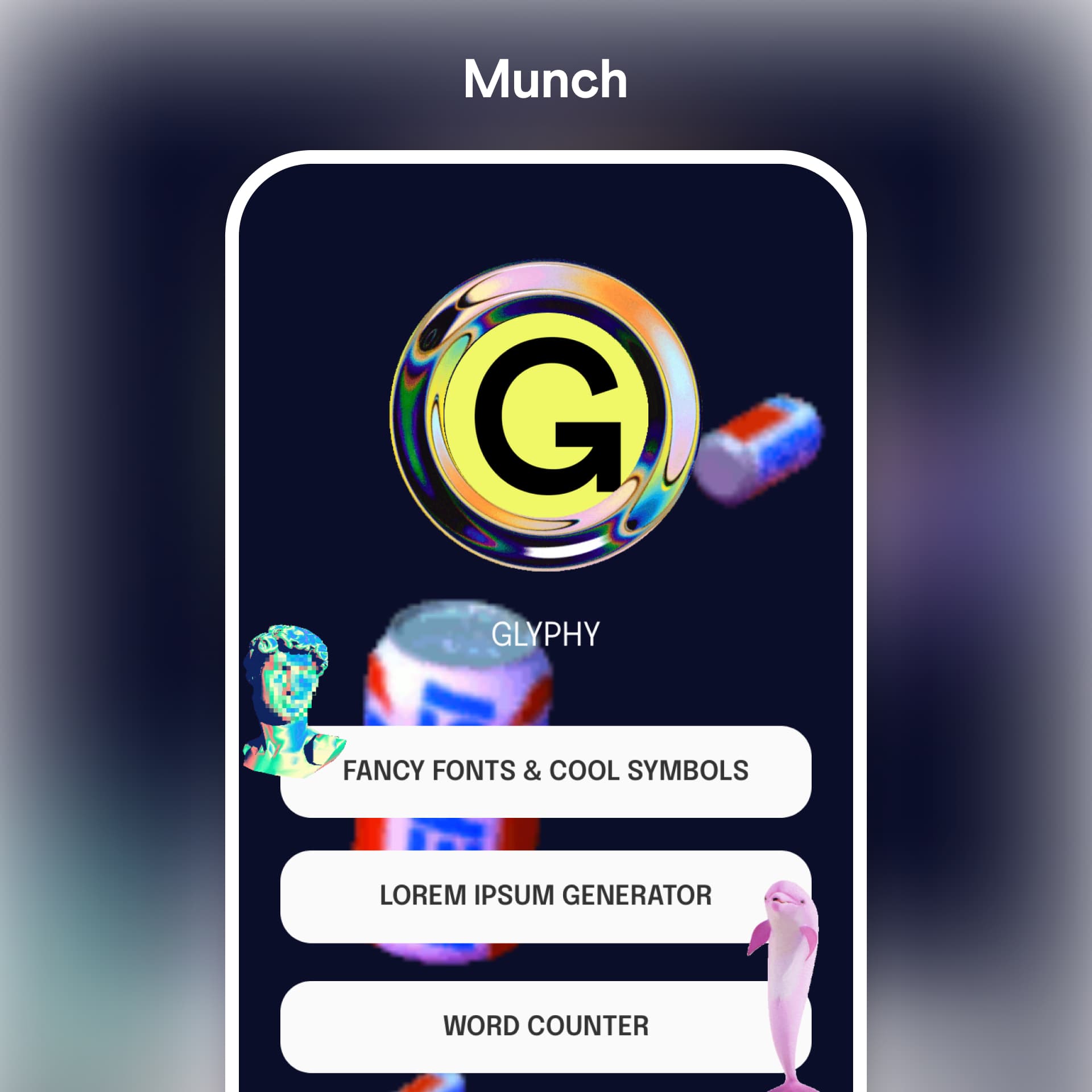 Munch is a free, mobile-first (and currently mobile-only) link in bio tool that lets you get creative with the theme design of your micro landing page.
For a no-cost offering, it provides a robust set of core features and some fun design options not available in other apps. However, while the page customization options are extensive, there's currently no way to remove the Munch branding or use a custom domain.
For monetization, you can link your Munch account with Stripe to create a storefront directly on your link page. You can also embed a range of widgets on the page, including content from many popular platforms like Youtube, Loom, Instagram, Twitter, TikTok, Spotify, and others.
One excellent app feature is its support for gifs and animated stickers, which you can use as your page background or position around your page. These elements let you add cool motion effects and quirky flavors to your pages, giving Munch a leg up on competitors in the internet-savvy design category.
Features
Use the app for free with an unlimited number of links, gifs, and stickers

Customize your page by adding text, links, and media, including gifs and animated stickers

Embed content popular content and streaming platforms, like Youtube, Vimeo, Typeform, Spotify, Calendly, CodePen, and many others

Connect your Stripe account to sell products directly on your Munch page
Pricing
Inspo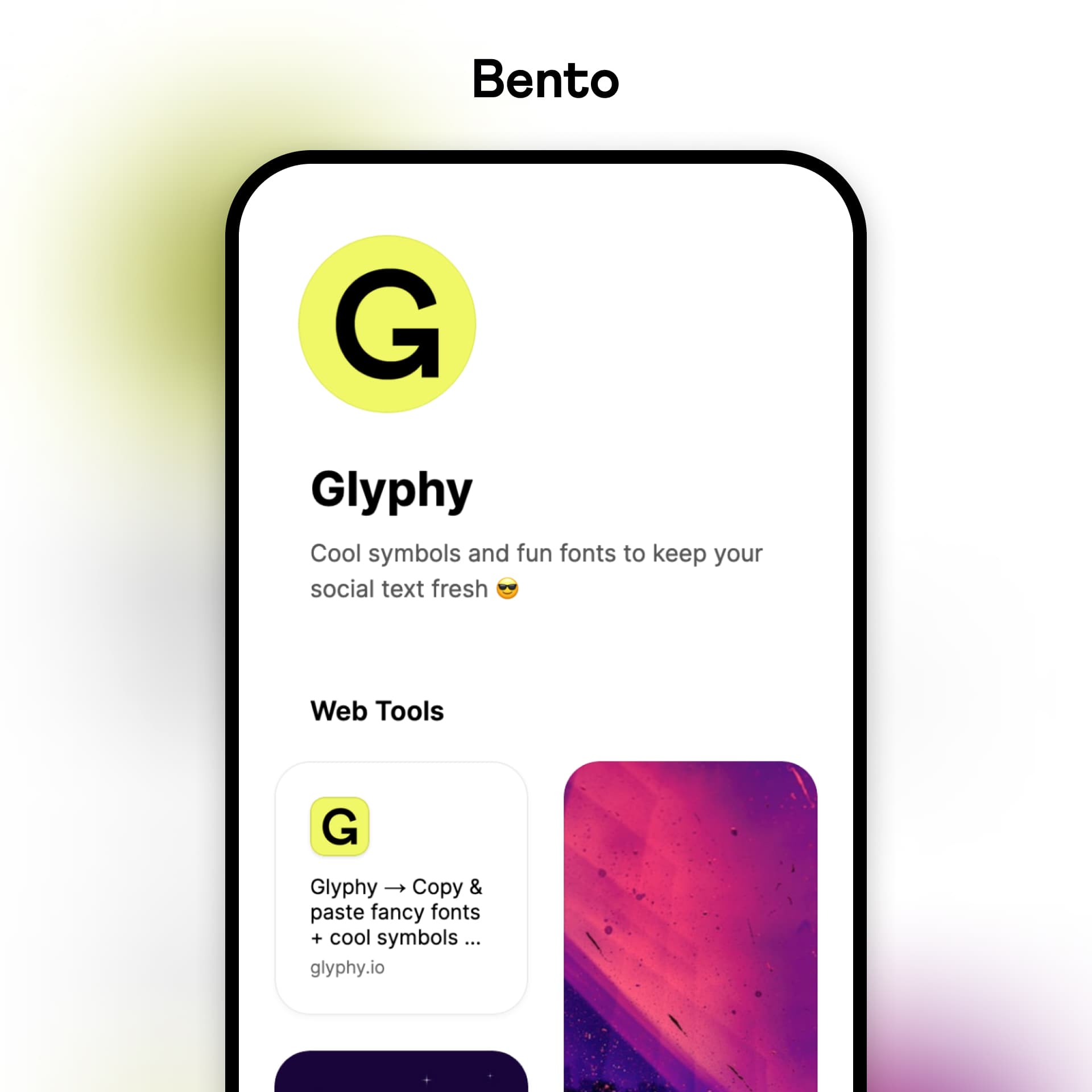 Bento is a simple grid-style link page hiding some powerful features.
Links, videos, and images appear as blocks to resize, rearrange, and group to your heart's content. But the real magic lies in the platform's rich link integrations, which auto-populate content when you add links to popular sites like Instagram, Twitter, GitHub, and many others.
As a new (and currently free) solution, Bento has fewer of the advanced feature hallmarks of its established competitors. Still, the clean, visually appealing interface is a joy to work with and adds a fresh aesthetic to the saturated link in bio page marketplace.
Features
Card-based grid layout offers a new take on the link in bio page

Separate layouts for desktop and mobile allow you to showcase content in different ways on different devices 

Rich link integrations show links to popular apps and sites with dynamic content, like media and call-to-action buttons
Pricing
Inspo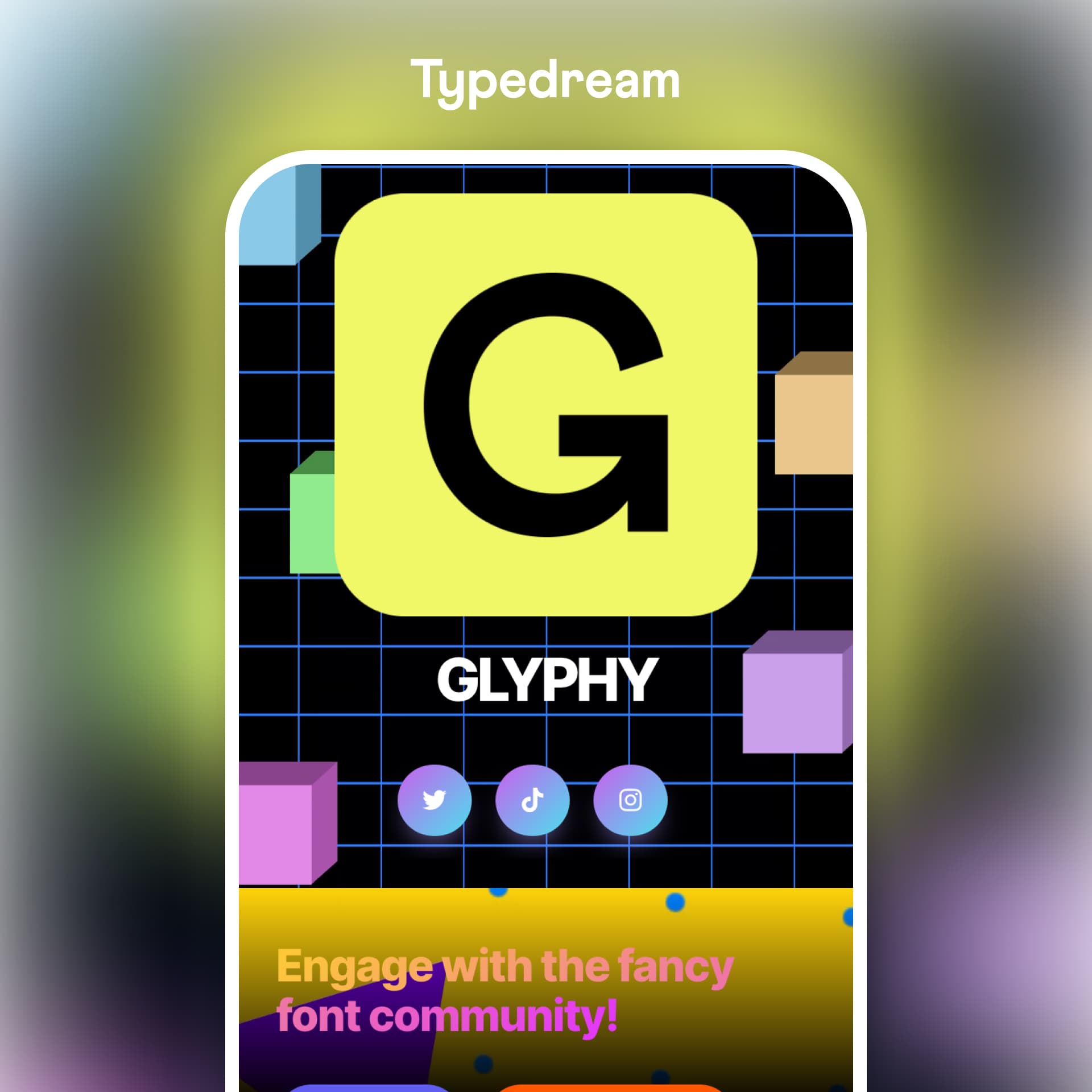 Typedream is a no-code web development platform that lets anyone build attractive, responsive websites in minutes.
By combining block-based text entry with drag-and-drop placement, Typedream's editing interface delivers an intuitive design flow that'll have you shipping beautiful web pages quickly. For an even faster setup, try the company's scaled-back mobile offering—Typedream Links— which includes a template for designing a one-page website that can act as a link in bio page.
As a fully realized no-code web development platform, Typedream has a higher learning curve than some of the other link in bio offerings. However, since you can build and publish a fully functioning page on the free plan, it's an excellent option for anyone with a creative bent looking for more flexibility in their bio page's design.
Features
Use the Free plan to publish a single Typedream page with a Typedream.app domain (you can create an unlimited number of pages)

Give your page a unique feel with an array of text and design components, like headings, bulleted lists, linkable image carousels, and embeds

Upgrade to the Launch plan to remove the Typedream branding, use a custom domain (and score a .xyz domain free for a year), access basic analytics, and add custom code to your pages

Users on the Launch plan also create password- or token-protected pages, access advanced analytics, and configure a site with a Notion database as the CMS backend
Pricing
Inspo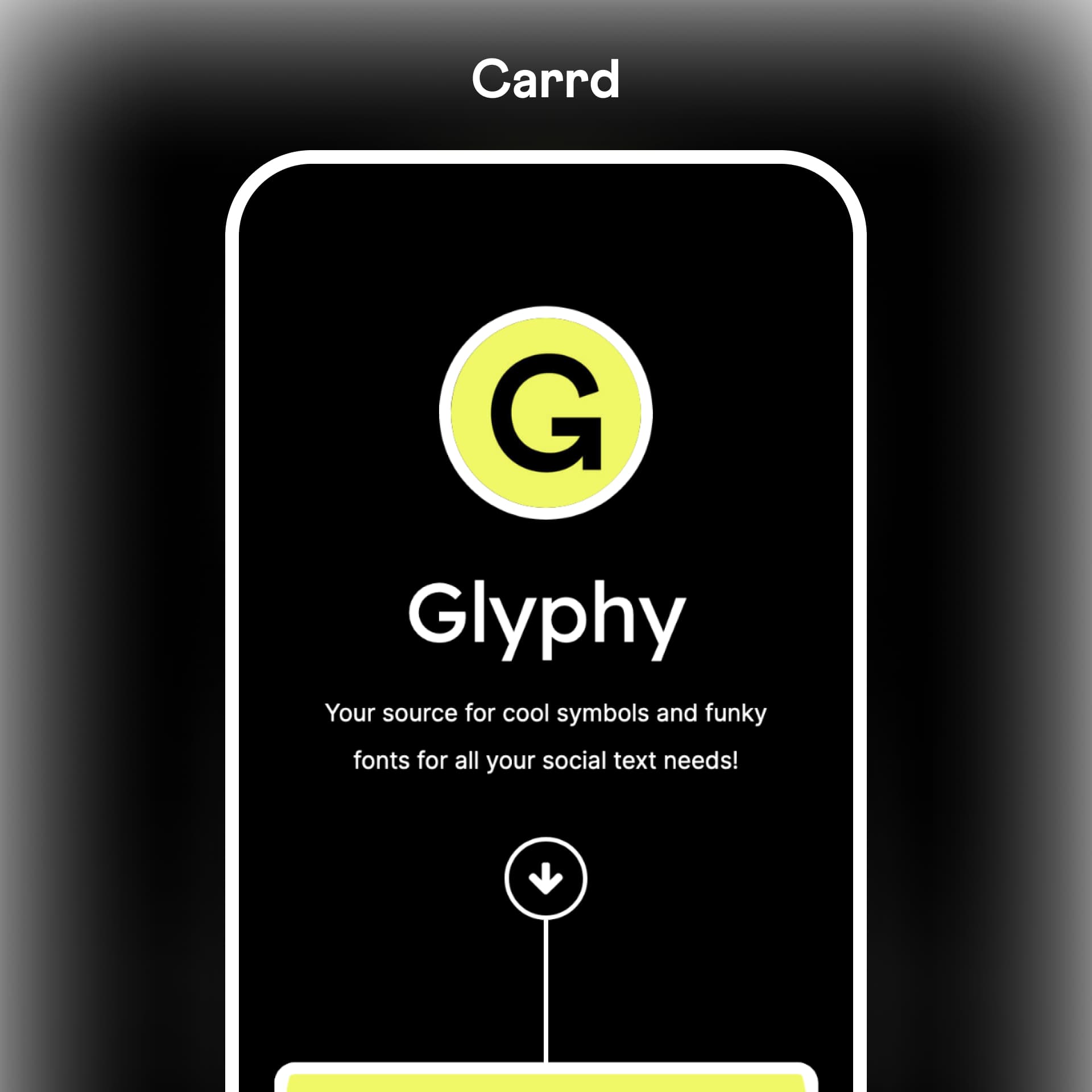 Carrd is more of a low-code website builder than a strict link in bio tool. Still, it can deliver the same functionality (and more) as other link aggregation platforms.
Carrd's generous free plan gives you access to all the app's core features and lets you publish up to three sites. The functionality on the free tier is enough to get set up with a sleek link page. For even more creative control, you can upgrade to one of their Pro plans for a slew of advanced features, like premium templates, page embeds, and custom URLs.
Carrd has more of a learning curve than other tools in this list because of its advanced feature set. However, investing the time it takes to learn the platform grants you more control over the look and feel of your page and the option to have a sleek link in bio page at no cost.
Features
Achieve more control over page design than with most competitors

Start right away by customizing one of Carrd's slick templates

Build and publish up to 3 Carrd sites for free

All pro plans allow you to remove the Carrd branding, with Standard and Plus supporting custom domain URLs as well

Standard and Plus plans support many advanced features, like Google Analytics tracking IDs, script embeds, and forms
Pricing
Free plan 

Paid plans (pricing)

Pro Lite

Pro Standard

Pro Plus
Inspo
Best Link in Bio Tools for Creators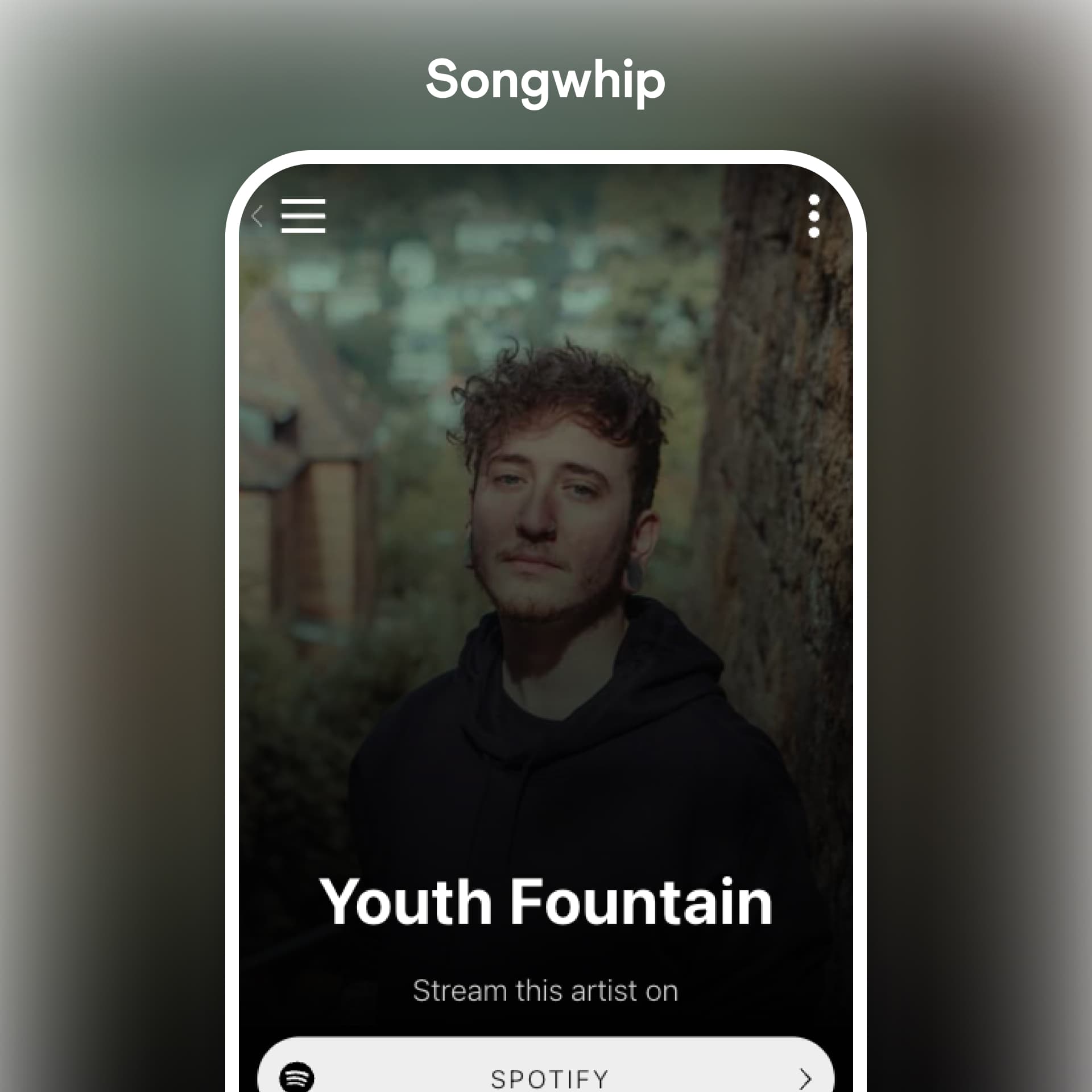 Songwhip is a link in bio tool designed specifically for musicians and bands.
Until an artist claims their profile (requires a paid subscription), anyone can use the platform to automatically generate a link page for a song, album, or artist. These free public pages are an excellent option for independent or emerging artists who want an elegant and easy way to aggregate streaming and digital retailer links without any upfront investment.
Claiming your artist profile has many benefits, like privatizing your page analytics, hiding the Songwhip branding, and allowing you to set a custom page domain or add release presave links to your pages.
The narrow focus of the platform means that many creators won't find that it meets their needs. Still, it's a fantastic, low-maintenance option for anyone who produces musical content.
Features
Create a dedicated song, album, or artist page for any music available on a major streaming platform

Populate your pages automatically with links to all major streaming services and digital music retailers

Access page view and demographic analytics for the past 14 days on any public page (Songwhip hides analytics for claimed artist pages)

Subscribe to claim your artist profile, which gives you more control over the appearance and behavior of your pages

Customize your claimed pages by hiding the Songwhip branding, using a custom domain or Songwhip subdomain, adding Facebook Pixels and Mailchimp forms, and including new release presave links
Pricing
Free public access

Paid artist plans (pricing)
Inspo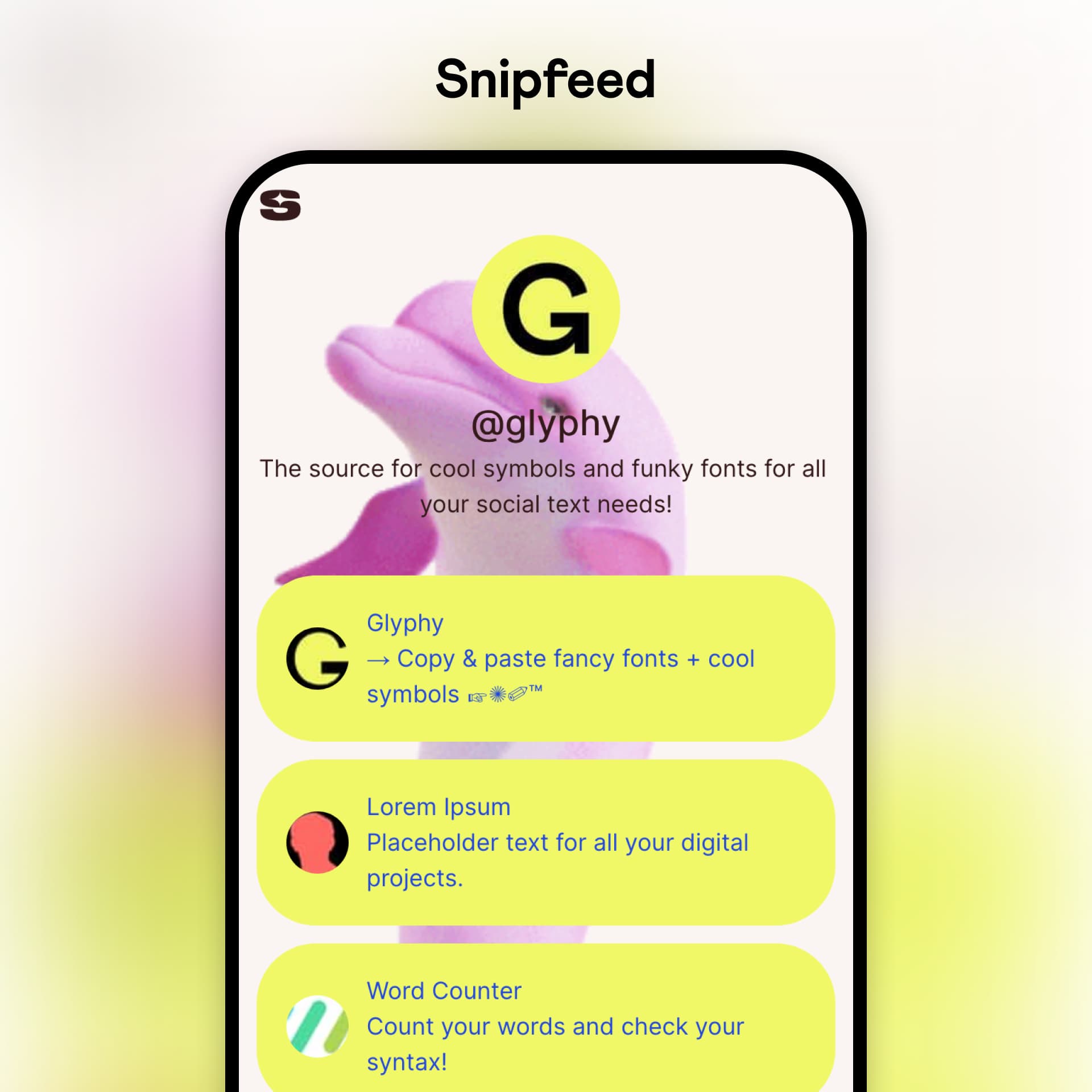 Snipfeed is a link in bio platform that provides a way to "turn your passion into your profession." As the tagline suggests, Snipfeed focuses most of its attention on monetization tools: it offers a range of built-in channels, including tipping, Q&A responses, and exclusive content.
The Pro plan slashes the platform's transaction fee from 15% to 2%, offering an enticing option for established creators with active revenue streams. Upgrading to the Pro plan carries additional benefits for power users, including access to advanced analytics, a free custom domain (or the option to use your own), and the ability to add buy now, pay later plans to your monetization apps.
The free plan provides excellent control over your page's theme and content. In addition, it offers a great way to build an attractive link page for new creators or those not interested in Snipfeed's proprietary monetization tools.
Features
Multiple built-in monetization channels - like tipping, custom content, and Q&A videos - with a 15% transaction fee for free users (2% for paid subscribers)

Automate your content workflow with Google Calendar, Zoom, Mailchimp, and Zapier (Pro Plan only) integrations

Free users have access to basic analytics, including historical page views, earnings, and page performance over the last seven days (additional analytics available with a paid plan)

Custom domains (paid plan only)

Give your customers flexibility in how they pay with buy now, pay later plans (paid plan only)
Pricing
Inspo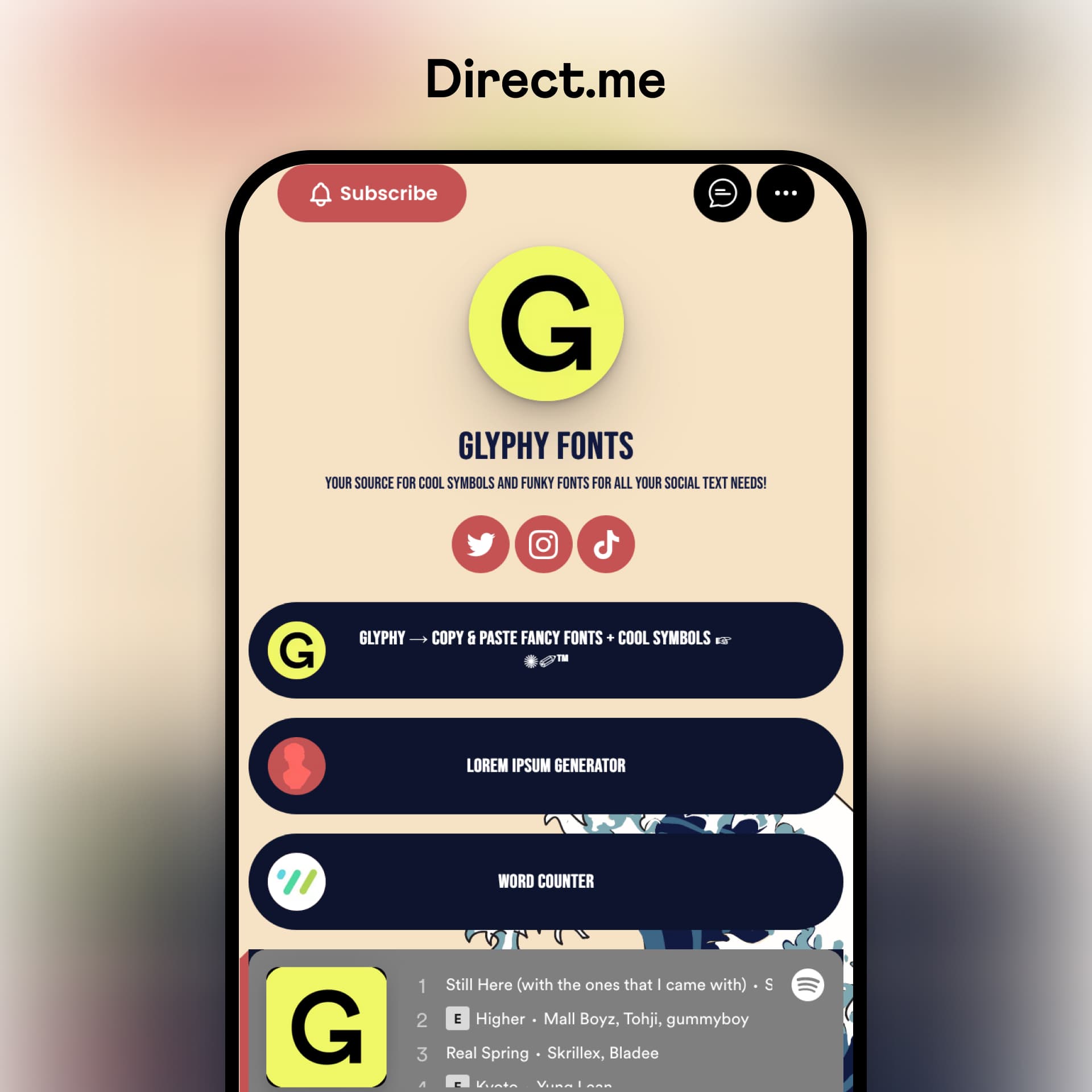 Direct.me is another link in bio tool that takes a more dynamic approach to a freemium product. The core app is free to use, offering a growing set of integrations, including Spotify, Twitch, and Youtube channel content embeds; a contact form and tip jar; and Patreon, Spring (Teespring), and Buy Me a Coffee monetization embeds.
Custom domains are available even on the free plan, but you'll have to pay a monthly fee to remove the direct.me branding.
While direct.me's app embeds aren't as fully featured as other players (Koji, for instance), the free plan's fully unlocked customization features, combined with the platform's dynamic fee structure, make it a useful link in bio option to consider. 
Features
Use a custom domain with your page

Remove the direct.me branding for a monthly fee

In addition to seeing page views, link clicks, clickthrough rate, and direct.me followers, you can also connect your social media accounts to view your followers and engagement right from your direct.me account

Gather visitor email addresses right on your direct.me page 

Monetize your page by accepting tips or embedding information from your Buy Me a Coffee, Patreon, or Spring (or Teespring) account
Pricing
Free plan

Paid services

Monthly fee to remove the direct.me branding from your page

Transaction fees collected from all sales completed through the platform
Inspo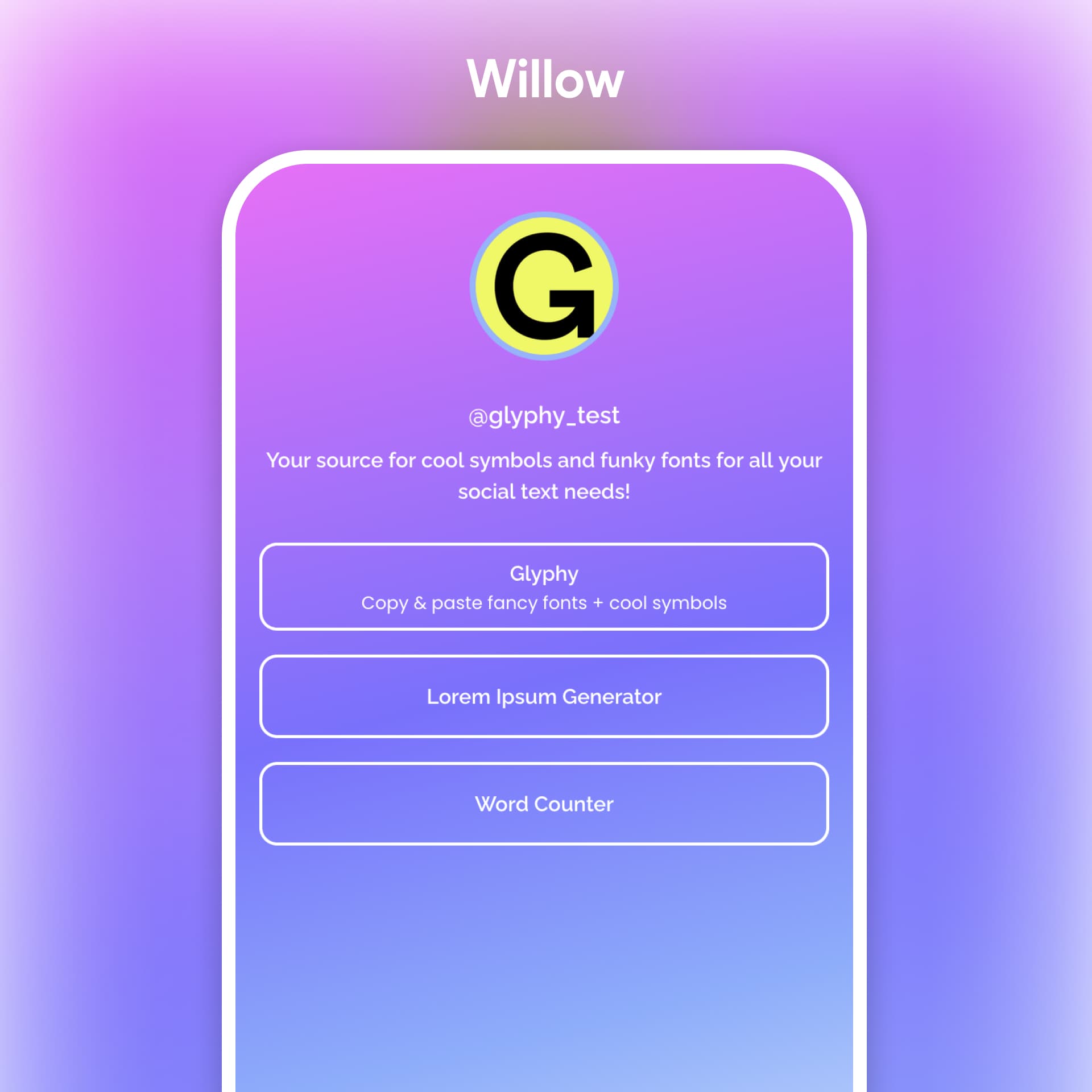 From the team behind Streamlabs, Willow is a link in bio tool billed as "The all-in-one link in bio for creators, brands, & influencers."
Willow provides a simple custom landing page with ten prebuilt themes (additional themes are available for Pro users) and supports unlimited links, dedicated buttons for popular social media platforms, and the ability to collect tips and visitor information directly on the page.
While Willow doesn't support custom URLs, Pro users can use custom page branding and design their themes.
Features
Offers tipping and Gumroad integration as monetization options for all accounts

0% processing fee for all accounts - Includes views, link clicks, and clickthrough rate analytics on all account types, with additional analytics options available to Pro users

Pro users can customize their branding, button styles, backgrounds, and fonts

Streamlabs Prime members can link their Willow account for a free upgrade to Pro
Pricing
Inspo
Shor. (formerly Shorby)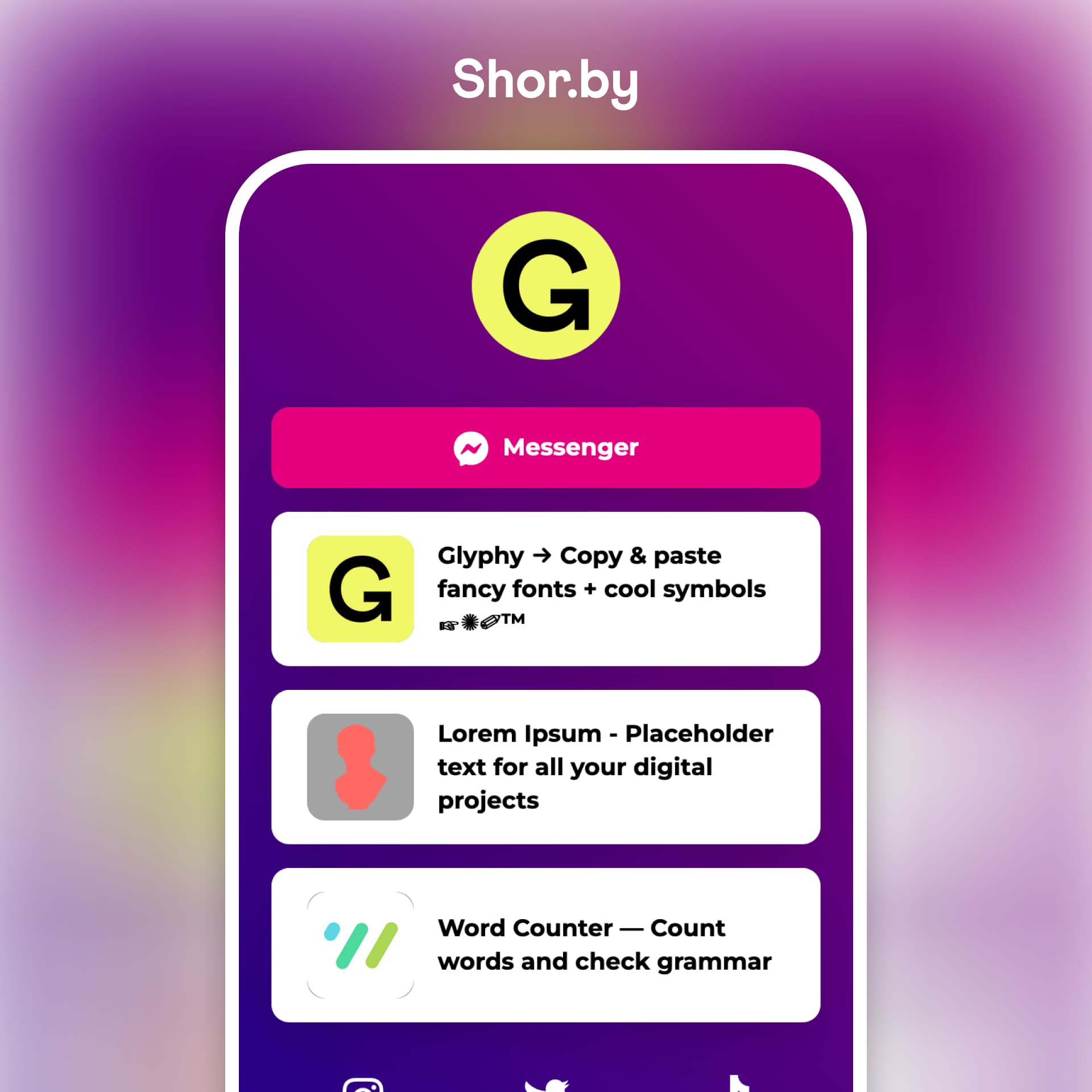 Shor. is a lightweight, elegant link in bio tool with a simple interface hiding powerful features.
The major components available for each page consist of dedicated messenger buttons, descriptive links or call-to-action buttons, and dynamic feeds (Pro and Agency plans only). Notably, the app emphasizes referring visitors to your direct contact channels, prominently featuring all messenger service buttons at the top of each page.
While Shor. doesn't offer a free plan, you can trial the platform to decide if a paid upgrade makes sense for your use case. One bonus of paying for Shor. is that all paid plans allow you to create multiple link in bio pages, so it's an excellent option if you're managing multiple accounts. Still, you'll need to subscribe to the Pro or Agency plan to access more advanced features, like dynamic content feeds, Google Analytics support, and custom URLs.
Since the only free option is the limited trial, this Linktree alternative is best suited to creators or businesses with the need and capital to take advantage of the higher-tier plans.
Features
Build an elegant link landing page with descriptive link cards and call-to-action buttons

Add dedicated contact buttons for visitors to reach you directly on your preferred messaging platforms

Add one or more marketing pixels to your page to track and understand visitor behavior

Populate your page dynamically with content from Youtube, Shopify, Etsy, or any other RSS or Atom feed (requires Pro or Agency subscription)

Use a custom URL for each Shor page (requires Pro or Agency subscription)
Pricing
Inspo
Best Link in Bio Tools for Marketers
Linkin.bio is a link in bio tool developed by Later, a full-featured social mediamarketing platform that started as one of the original Instagram scheduling tools. Linkin.bio takes an Instagram (and to a lesser degree TikTok) focused approach to its page design, with dynamic content options consisting of Youtube videos and TikTok and Instagram feedembeds (the TikTok option requires a paid subscription).
All page components, except for the featured banner link and Mailchimp-integrated form, are available for free users, making this an excellent low-cost Linktree alternative, especially for creators or influencers focused on Instagram conversion.
Upgrading to one of the paid plans unlocks access to a wealth of Later's social media scheduling tools and Linkin.bio's Shopify integration. This integration makes referring visitors from your Linkin.bio page to your ecommerce storefront easy.
Features
Use the free plan to build a Linkin.bio page with link buttons, featured media, and linked Instagram posts

Upgrade to a paid plan to remove Later's branding

Convert visitors to subscribers by using the Mailchimp integration to collect emails right on your Linkin.bio page (requires a paid subscription)

Paid Linkin.bio subscribers can also link directly to Shopify storefront products from their Instagram posts
Pricing
Inspo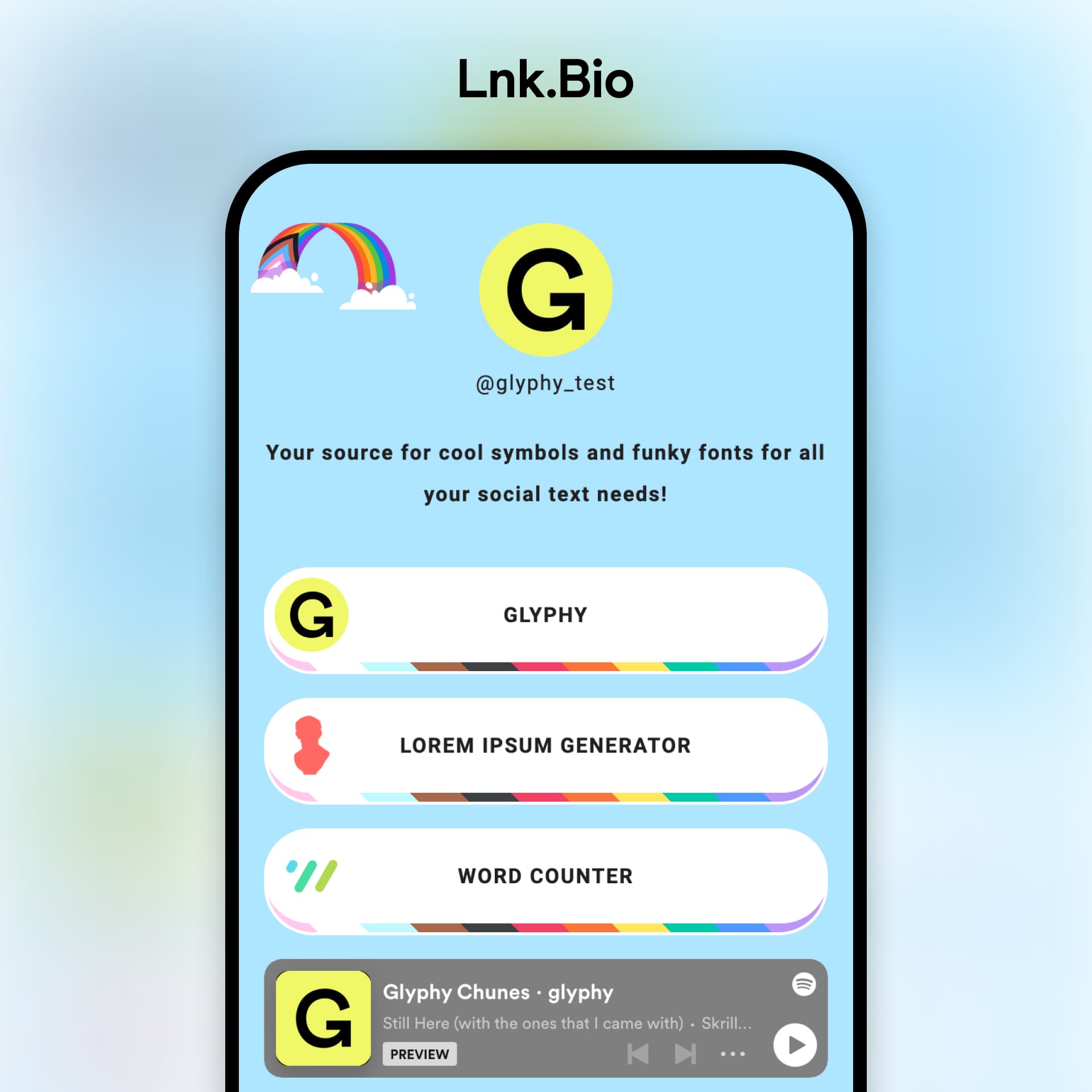 Lnk.Bio offers a link in bio tool that hits most of the same marks as its bigger-name competitors while providing some unique features. The free version's support for unlimited links, music and video embeds, and post automation make it an appealing, no-cost option, especially for new musicians or vloggers.
The sparse monetization options (limited to a Stripe storefront built on the platform or direct donations) and lack of custom domain support for paid plans may not fit the needs of some users looking to invest in a link in bio tool. Still, the Instagram and TikTok sync and Instagram post scheduling options could be killer features for creators focusing on converting followers from those two platforms.
As of March 2023, Lnk.Bio was one of the few platforms offering paid plans as a monthly subscription and a one-time fee. So if you're willing to pay for features but are subscription shy, this could be an excellent option.
Features
Add unlimited links to your Lnk.Bio page and embed songs, videos, and playlists from popular streaming services

Automate link creation with the WordPress and Zapier integrations

Collect donations from fans directly on your page with no transaction fee

Link activity and tracking pixel support (paid plans only)

Upgrade to the Unique plan to build a shop directly on your page (Lnk.Bio collects a percentage of all transactions as a fee)
Pricing
Inspo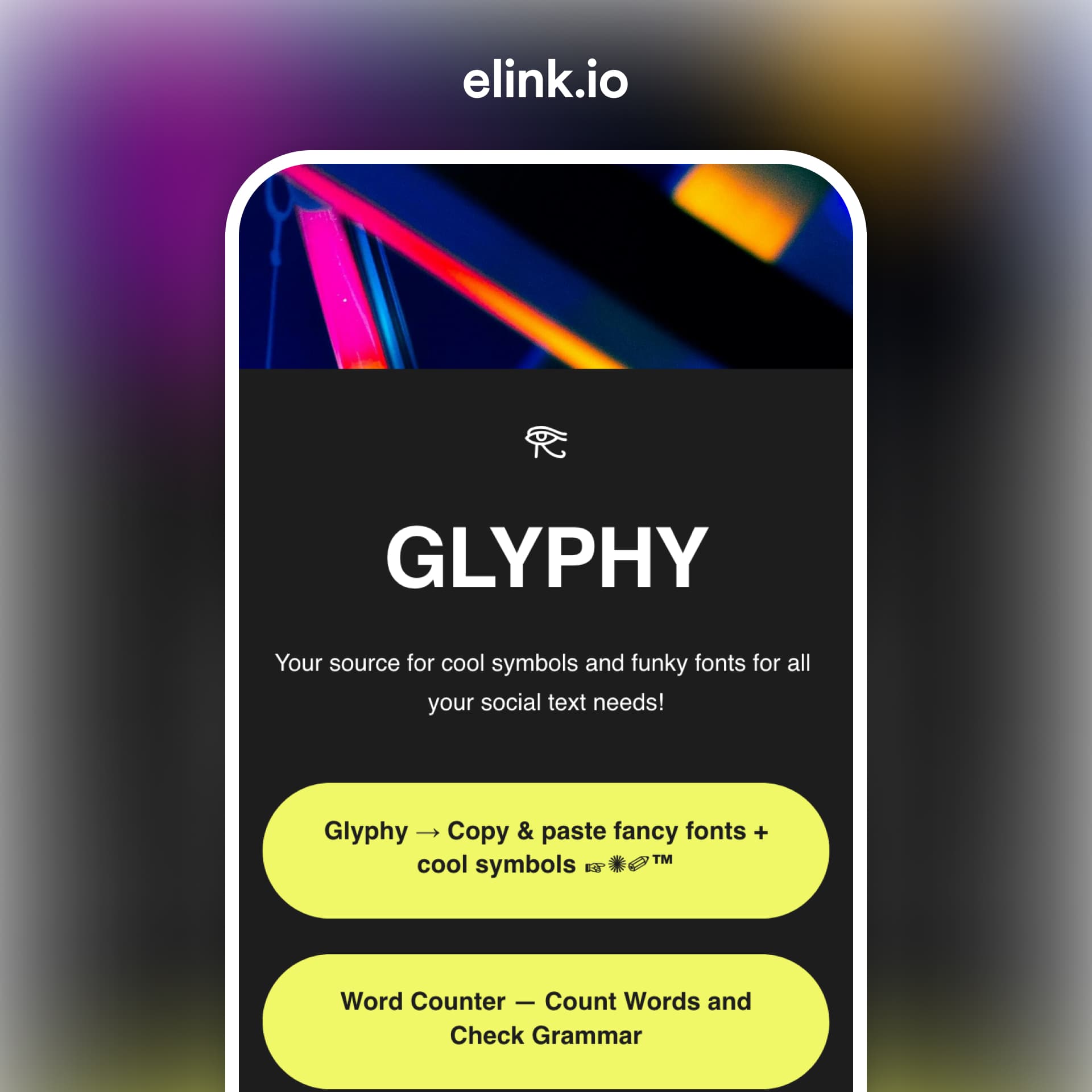 Elink is a platform that helps you "build anything with web links." While the app offers a link in bio pagetemplate, its flagship features are a bookmark and RSS feed manager, email newsletter designer, and web page builder.
Elink offers convenient integrations among its solutions, like the ability to add bookmarked links to a page or bundle RSS feed links into a newsletter. These integrations make it a strong option for curators looking to streamline content delivery, with the Auto Pilot plan offering additional powerful automation tools.
One downside is that you must have a paid plan to publish any posts (including a link in bio page), so it's only a viable option if you're interested in investing in your link page and content delivery process.
Features
Fully featured content management platform with multiple tools

Build bookmark libraries and RSS feeds directly in the app

Create link in bio pages, landing pages, and newsletters from your bookmarks and RSS feeds (requires a paid subscription to publish to the web)

Upgrade to the Auto Pilot subscription plan to access robust automation processes, like content scheduling, Mailchimp automations, and Zapier integrations
Pricing
Inspo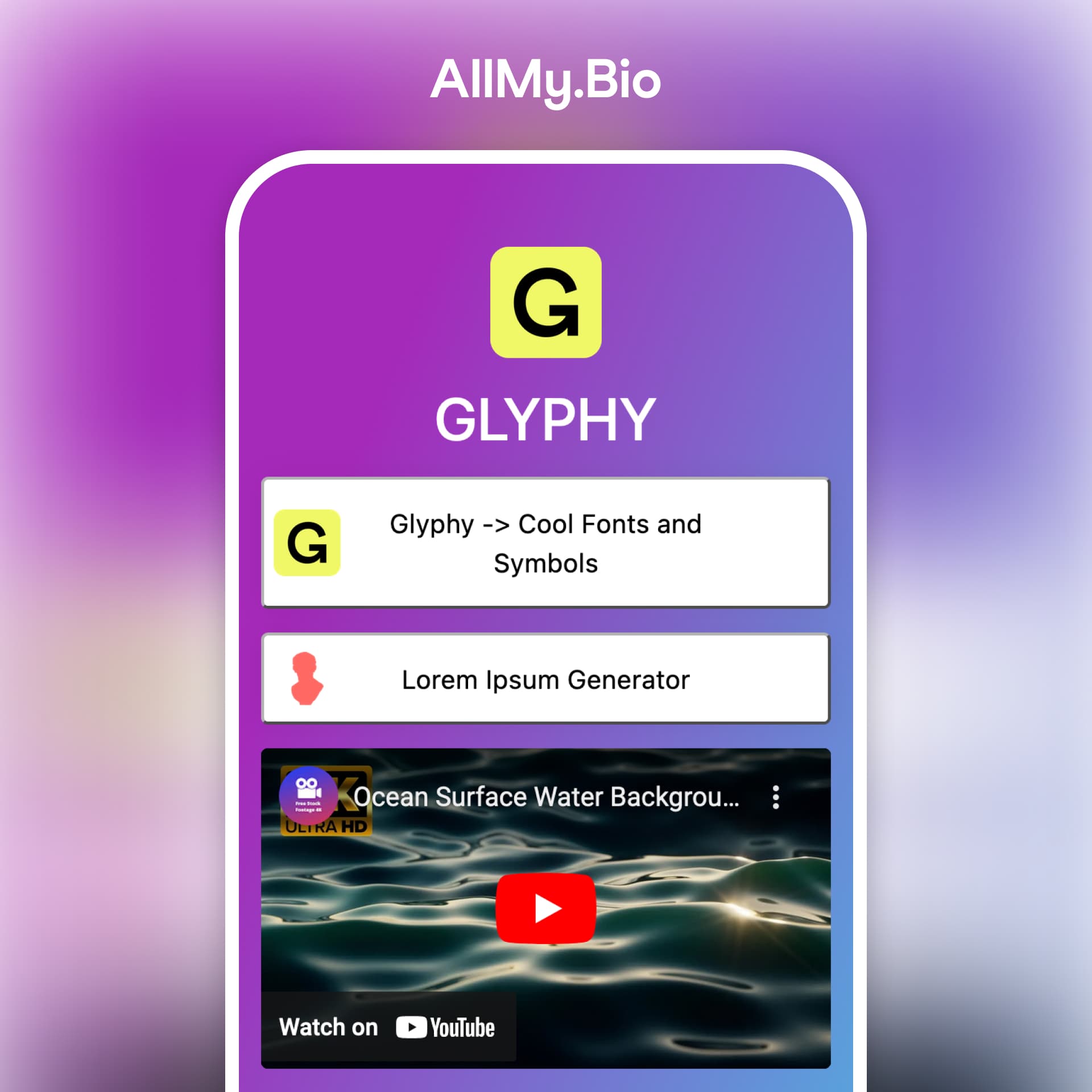 AllMy•Bio is a platform that offers multiple tools for digital creators, including a link aggregating landing page that makes for a robust link in bio page.
With their free plan, you can add links to external sites and embed content from a limited number of service providers, like YouTube and TikTok, and customize your links' color and background.
The paid plans allow for additional embeds, like Paypal, Apple Music, and OpenSea, and unlock the option to remove the AllMy Bio branding and use custom branding, CSS, and HTML. 
Features
Add unlimited links to each landing page 

View detailed visitor statistics, from country down to browser type, retained for 365 days

Supports tracking pixels from Twitter, TikTok, Facebook, and several other providers  

Build multiple link pages on the same platform (paid plans only)

Add custom branding, CSS, and JavaScript to your landing pages (paid plans only)
Pricing
Inspo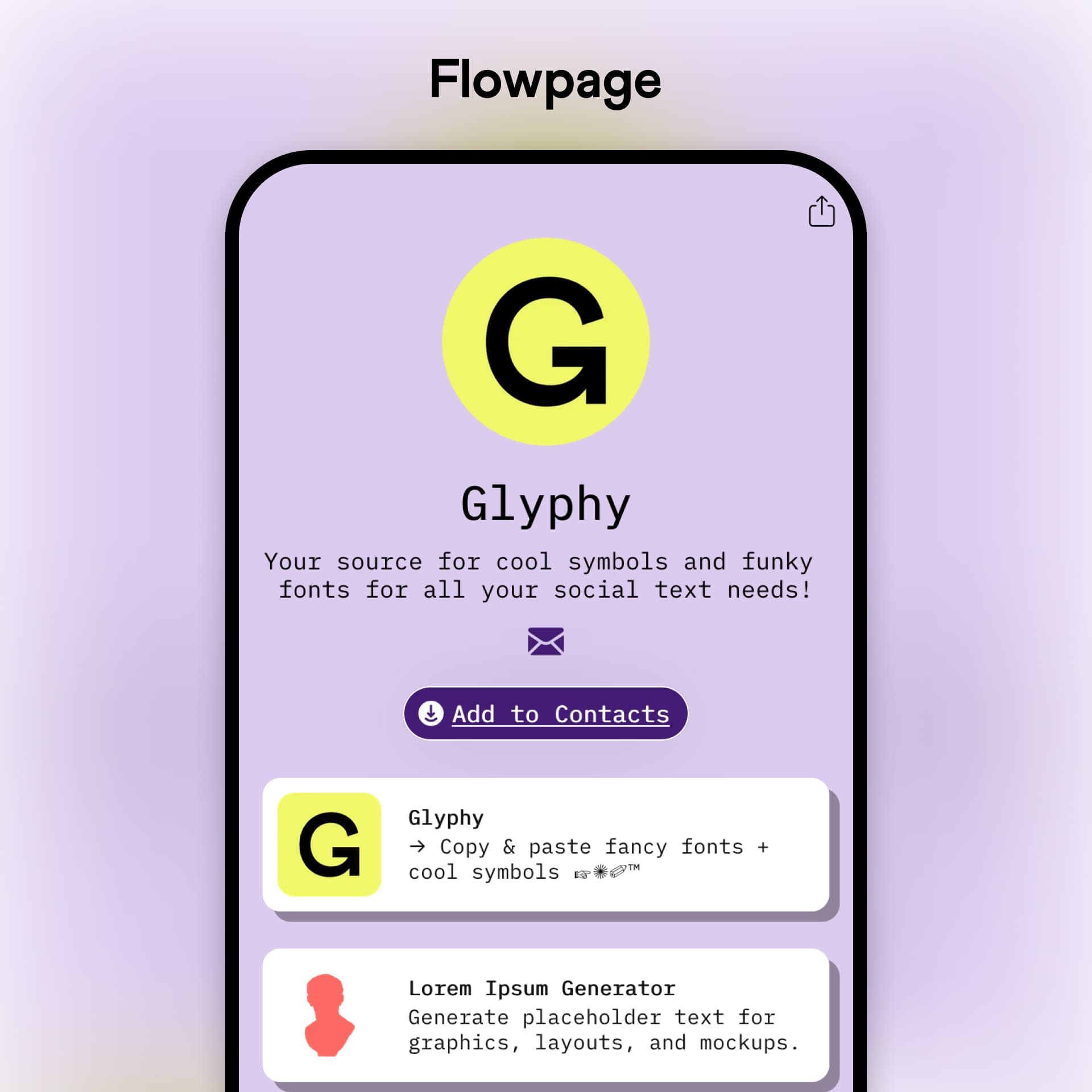 Flowpage is a link in bio tool from Flowcode, a company primarily known for its QR code generation and printing services. Flowpage feels geared more towards agencies and businesses, but a well-featured free plan that doesn't paywall any core features makes it a viable solution for individual users.
Flowpage supports the standard content you'd expect from a link in bio tool, like links, social media buttons, and contact information, while adding some less standard options, like OpenSea NFT embeds, file uploads, and forms and polls.
Although Flowpage limits theme customization on its free tier, you can still adjust the font, text color, button shape, and background. Subscribing to Pro unlocks additional customization options, like more font types, themes, and link colors. 
Features
Create up to two Flowpages for free (limit increases with paid plans)

Collect contact information and poll responses from visitors right on your Flowpage

Use the Stripe integration to create a storefront and sell products directly on your page

Facebook Pixelretargeting and SEO Meta Tag support

Custom branding and domains (Pro Plus and Enterprise plans only)
See the features list on Flowcode's Plans page for a complete list of the platform's capabilities.
Pricing
Inspo
Best Link in Bio Tools for Ecommerce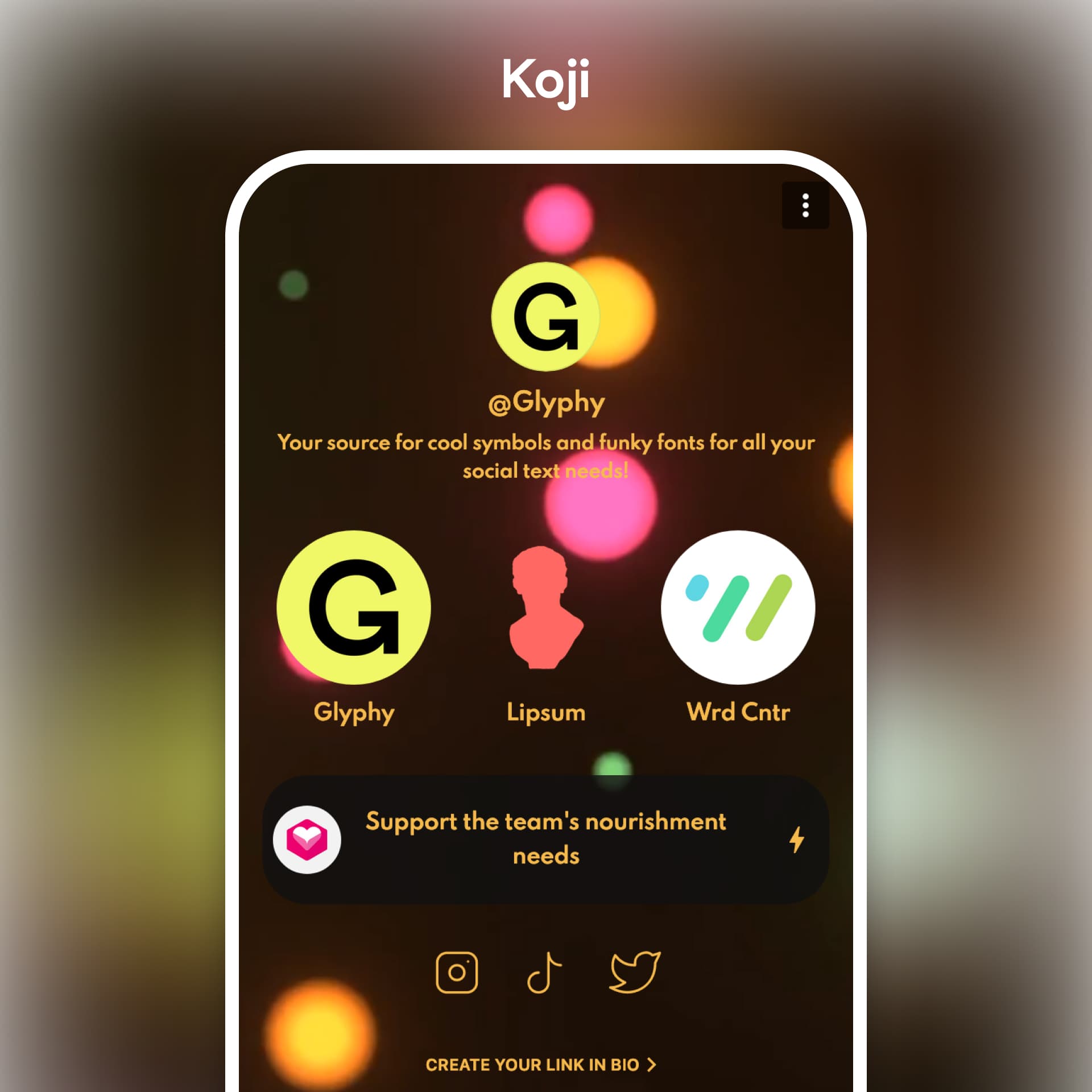 Touting itself as "the first ecommerce platform tailor-made for social media sellers," Koji's mission is clear: helping creators monetize their followings. True to its marketing, the platform's choice to price by the app and transaction instead of on a month-to-month or annual basis makes it accessible to new and established creators alike.
Koji's core product, without any paid apps, checks the same boxes as most of its link in bio competitors. However, you'll need to use Koji's monetization apps to see the platform's real value. These apps integrate with other service providers but allow you to collect payments on your page. Each app typically requires a one-time publishing fee and collects a percentage from all transactions.
Although it lacks some advanced customization options found in other apps (like custom branding and a way to link your profile to a custom domain), the platform's an excellent choice for creators looking for a simple way to deliver or monetize existing digital content. 
Features
Customize page content with external links, plugins, and Koji-built apps

Plugins include Facebook and TikTok Pixels, Twitter and Youtube subscribe buttons, embedded audio players, and embedded custom code

Koji apps offer a range of monetization and engagement avenues, including templates for selling e-books, courses, and videos; donation tools; affiliate links and shop builders; tools for sending personalized audio and video messages; and ways to display social, NFT, and other content

Host individual Koji apps on your domains or subdomains

Unique pricing structure charges a flat fee for adding an app and a percentage of all sales through the app instead of a monthly subscription fee
Refer to Koji's Templates page to view a complete list of the apps you can add to your page.
Pricing
As of this article's publishing, Koji prices by the app and doesn't publicly list the prices for each app on its site.
If you have a Koji account, you can see the price of an app before adding it to your page.
Inspo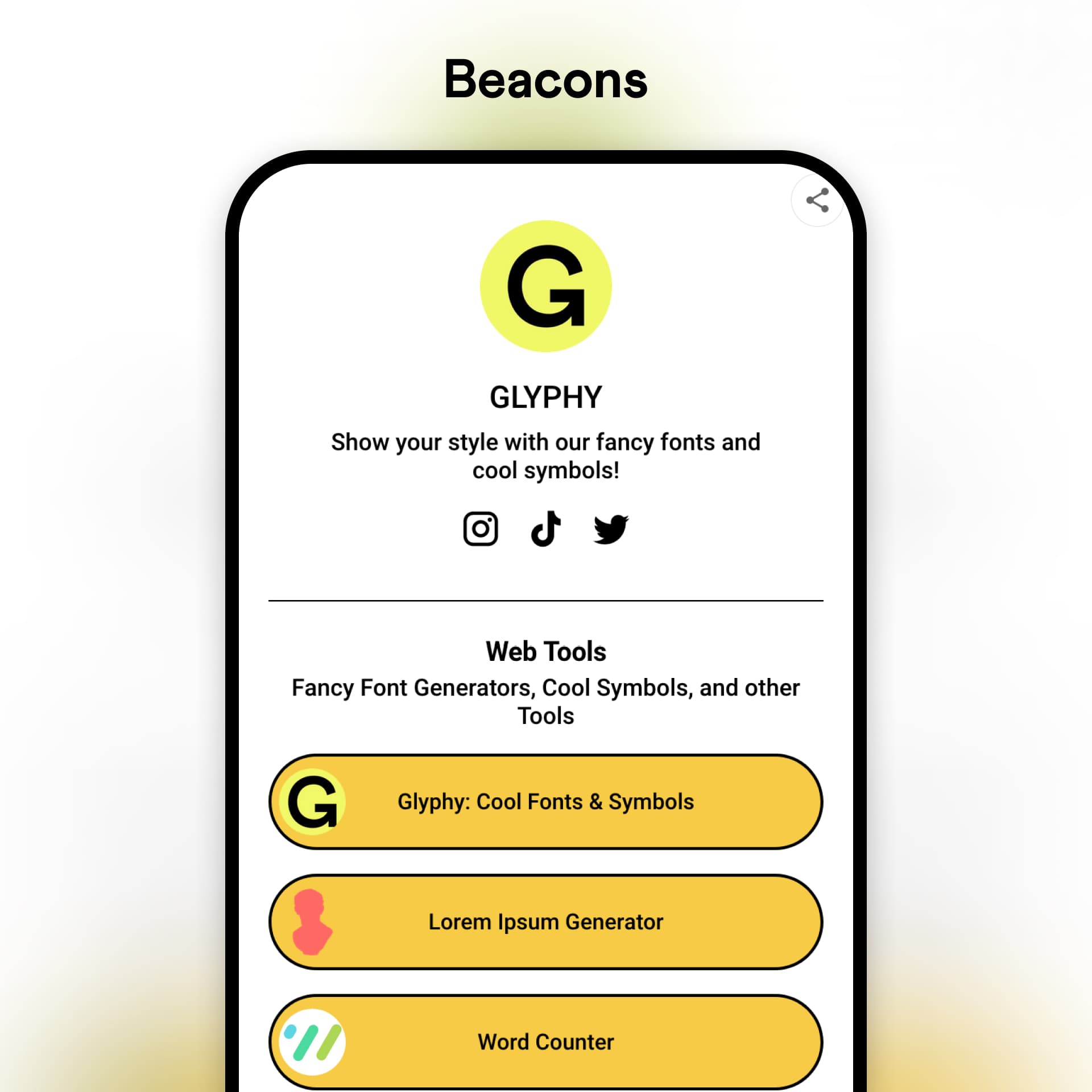 Beacons is a company focused on building a platform of tools to enable the creator economy.
Beacons' link in bio tool offers many of the standard features of other players in the space - links to websites; embeds for social media content, videos, and music; and links to your social profiles.
The free plan doesn't limit the core app's functionality, even allowing access to the platform's monetization tools. However, upgrading to Pro makes sense if you'd like to use the other page embeds, create additional pages, or lower the platform's transaction cost.
In addition to their link in bio tool, Beacons also offer audience, brand, and business management tools, like post activity tracking, email marketing, AI-powered brand outreach, and an income dashboard.
Features
Fully featured creator platform featuring a link in bio tool and 13 other apps

Customize page themes with settings like link shape, background content and style, and page color palette and font

Directly integrate other platforms on your page, such as Buy Me a Coffee, OpenSea, Trend, and Pietra

Entrepreneur plan members pay lower commission for sales through the platform (see Beacons' pricing for current rates)

Use your own domain and add custom site branding, including a favicon and meta description (Entrepreneur plan only)
See Beacons' Features page for a complete list of their link in bio tool's capabilities.
Pricing
Check Beacons' Pricing page for up-to-date subscription costs.
Inspo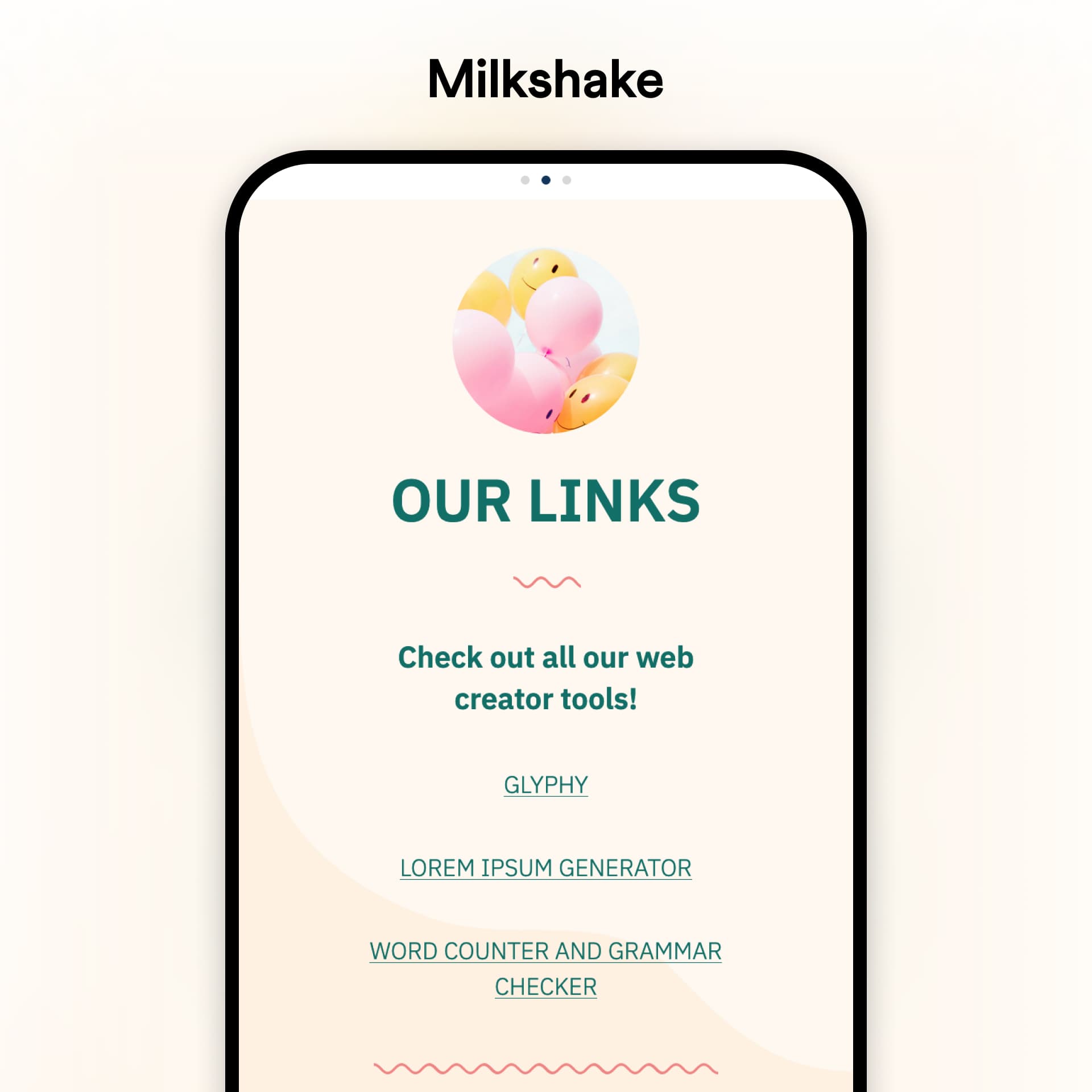 Milkshake is a mobile-only (iOS and Android) app for designing simple websites. To build a site, you select one or more of the platform's page templates, called Cards, then customize the Cards with your content.
The Card templates include ones explicitly designed for links, which lets you use Milkshake as a substitute for a more traditional link in biolanding page. One of Milkshake's best features is its ability to control the look and feel of your site across multiple Cards, which makes this app an appealing option if you need a multi-page layout.
Although it lacks standard premium features like custom domains, branding, and integrated monetization tools, you can use Milkshake to build a fully featured micro-site builder without any financial commitment. In addition, the overall design language of the app, the elegant and minimalist styling, and the Youtube embed capabilities make Milkshake a top choice for fashion brands, style bloggers, and anyone looking to funnel more of their following to Youtube.
Features
See clicks, views, traffic sources, countries, and new vs. returning users

15+ premade Card templates, with the ability to fully customize each to your own branding needs

Embed Youtube content directly into your Cards

Paid subscription to remove the Milkshake branded Card
Pricing
Free plan

Paid services

Monthly subscription to remove the Milkshake Card from your site
Inspo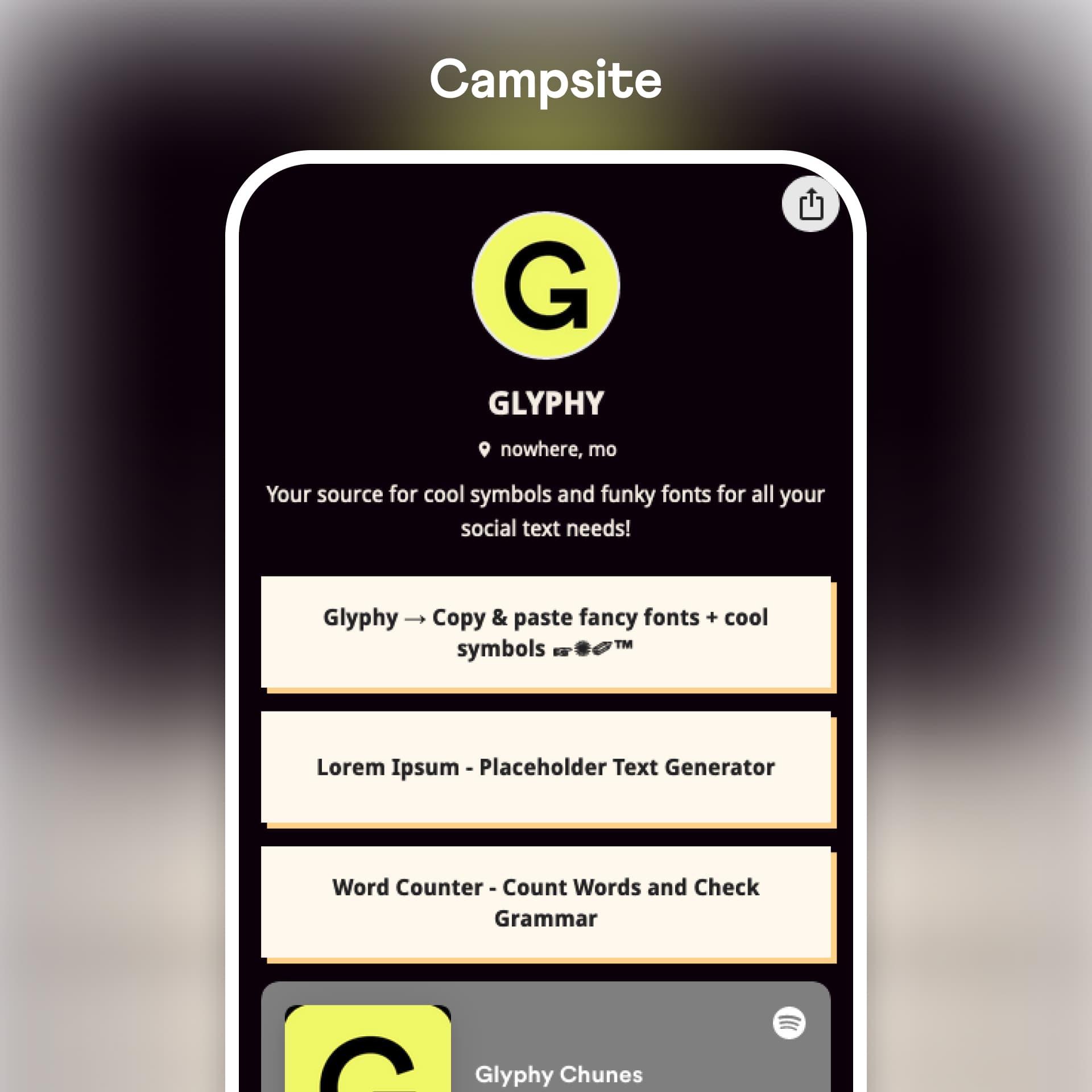 Campsite.bio is a link in bio tool designed to help you secure your piece of the internet creator economy pie. The free option provides basic app functionality, including standard link building and embedding features and a few layout nice-to-haves, like header carousels and image grids.
The product is more focused on the paid tiers, though, with the developers concentrating most of the app's killer features in these plans. With a dizzying array of content and marketing integrations, the Pro and Pro+ plans are an excellent choice for creators or influencers looking to collate established content streams into a single pipeline.
Campsite.bio's powerful integrations and analytics tools make it worth considering for any influencers or creators looking to invest in their link in the bio page.
Features
Monetize by fulfilling requests for your followers and accepting tips or donations (Campsite.bio keeps a percentage of each transaction)

Embed audio and video content from Spotify, Apple Music and Podcasts, Youtube, Soundcloud, and Twitch directly on your profile

View basic analytics, including total clicks, views, and clickthrough rate (paid plans can access additional analytics)

Integrate profiles with industry-standard marketing tools, like ActiveCampaign, Klaviyo, Google Ads and Analytics, Facebook and TikTok Pixel, and Pinterest Tag (paid plans only)

Remove the Campsite branding from your profile and use a custom domain or subdomain (paid plans only)
Pricing
Inspo
Conclusion
Over the last few years, enterprising companies have crowded the link in bio tool space with many similar products. This makes choosing the best one more a matter of personal preference than objective product superiority.
We highlighted a few everyday use cases with our Linktree alternatives list, showcasing established players and new faces in each area. One benefit of most of these tools is that they offer a free plan, which means you can demo several providers without committing.
Linktree maintains an undeniable hold on the link in bio marketplace, and it's retained that position for a good reason. So if brand reach, product maturity, and platform stability are nonnegotiable criteria for your link in bio provider, Linktree's the easy choice.
However, if you're looking for more creative control over your custom landing page, different ways to optimize your content workflow, or a cheap way to aggregate links on a page, take a few of Linktree's competitors for a spin. You might be surprised how dancing pink dolphins and flying Pepsi cans enhance your page's experience.